MLA & LION databases transition to new platforms on July 1st
Reminder: As of Monday, July 1, 2019, the MLA International Bibliography database (and its related MLA Directory of Periodicals database) and the Literature Online (LION) database are available on the EBSCOhost and ProQuest platforms, respectively.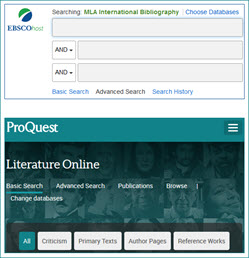 For several months, ending on June 30th, these resources had an overlap period with both the previous and new versions available. As of July 1st, the EBSCOhost platform will be the sole source of UC's access to MLA International Bibliography / MLA Directory of Periodicals, and the main ProQuest platform will be the sole source of UC's access to Literature Online.
More information on the transitions is available in these CDLINFO articles:
Note: SCP will change the PIDs to go to the new platform effective July 1.  If the Databases list on your campus library website does not use the PIDs for these resources, remind your webmaster to update the underlying URLs accordingly.