New Resource: Sabin Americana, 1500-1926
All UC campuses now have access to Sabin Americana, 1500-1926; some campuses may have already had access via local subscriptions:
http://uclibs.org/PID/330933    All campuses + LBNL & LLNL; on Gale's InfoTrac platform
Sabin Americana, 1500–1926 offers an up-close perspective on life in the Americas, encompassing the arrival of the Europeans on the shores of North America in the late 15th century to the first decades of the 20th century. Covering a span of 400 years, this digital collection highlights the society, politics, religious beliefs, customs and momentous events of the time. The collection includes books, pamphlets, broadsides and documents from an assortment of genres – from sermons and political tracts to legislation and literature.
Although currently on Gale's InfoTrac platform, this database will be moving to Gale's Primary Sources platform in the future.  Users can try out the new interface by clicking the Try the New Experience button on the database homepage.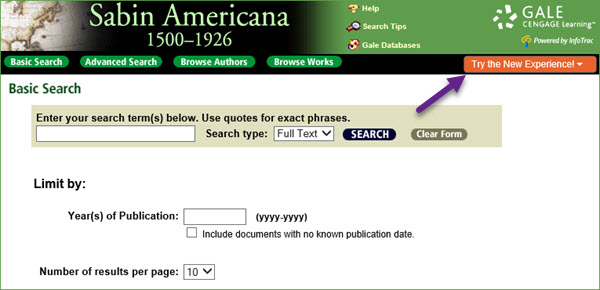 Topics covered in the Sabin Americana, 1500–1926 database include:
Discovery and exploration of the Americas – accounts from British, French, Spanish, Portuguese, Dutch and Danish explorers
Colonization – features American and European views of colonization and first-hand accounts of colonial life in the U.S., Canada, Caribbean and throughout Latin America
Slavery – memoirs of life under slavery, including original speeches, lectures, sermons, discourses, papers and reports written to the legislatures across America; pamphlets, reviews of the day, books and international essays express both pro- and anti-slavery sentiments in the U.S. and Caribbean
Cities, States and Territories – the social and political evolution of America's expansion from 13 colonies to 48 states and its territories
Civil War – a wide array of memoirs, political tracts, published legislative proceedings and broadsides that detail the rise and resolution of this conflict
Reconstruction – records that describe the re-organization and re-establishment of the seceded states in the Union after the Civil War
Politics – the story of the birth of campaign literature during the 18th and 19th centuries American women – the education, civil rights, domestic life and employment of women, as well as individual biographical studies
Native Americans – essays, booklets, treaties, congressional speeches and more document the social attitudes and dealings with indigenous populations. Also included are materials about indigenous populations in Latin America and the Caribbean
Immigration – pamphlets, broadsides, speeches, articles and books that describe immigration to the Americas
Constitution – pamphlets, letters, speeches and essays provide detailed information about the early political organization of the American colonies and framing of the Constitution
Carla Arbagey, UCR, is the Resource Liaison for the Gale databases.