ACS Publications debuts new platform: ACS Axial
On May 22, 2019, ACS Publications is rolling out their new digital publishing platform, with improved features and functionality.
According the recent announcement, the new site will improve the article research experience with a simplified, modern interface.
Key features include:
Simplified navigation: All new journal homepages feature simplified navigation to latest research articles, past issues, and journal information.
Enhanced browsing: Preview the graphical and written abstracts of articles through article collections.
Prominent article metrics: All new article pages showcase key article metrics and improved navigation to figures, supporting information, and references.
Mobile friendly design: Easily browse content from your tablet or smartphone, with a responsive design and the ability to pair your devices for off-campus access.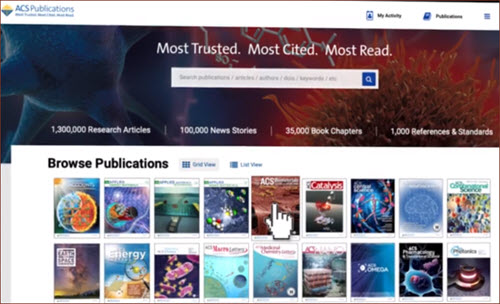 Note: Saved searches and articles will be available once users log in with their ACS ID account.
Chuck Huber, huber@library.ucsb.edu, is the Resource Liaison for ACS resources.