New Tier 2 Resource: China Data Online is back!
Previously, China Data Online was a Tier 2 license with the University of Michigan's China Data Center (CDC). Unexpectedly, in September 2018, UM's China Data Center closed its doors; access was cancelled for all resources.
Recently, four UC campuses (Berkeley, Davis, Irvine, and San Diego) began participation in a Tier 2 license with a new vendor, All China Marketing Research Co., Ltd. (ACMR).
http://uclibs.org/PID/108792        B, D, I, SD; on the All China Data Center platform
The China Data Online (https://china-data-online.com) is the primary data source for China studies. It includes (1) China Statistical Databases; (2) China Census Databases; and (3) China Spatial Data Service (China Geo-Explorer).
Statistics are provided on population; national accounts, including Gross Domestic Product and Balance of Payments; employment, labor, and wages; financial and banking data; price indices; government income and expenditures; agriculture; industry, construction, and transportation; domestic and foreign trade; education; health; and natural resources. The data are collected primarily by the National Bureau of Statistics of China, who is charged with the administration of the national statistical information system of China.
For "Explanatory Notes on Main Statistical Indicators of Macro-economy," All China Data Center China Data Online, see http://china-data-online.com/info/jieshi.asp.
China Geo-Explorer (CGE) fully integrates different data sources from government statistics, population census and economics census of China at different levels (province, city, county, township and ZIP code) into a spatial system with more than 6,000 comparable variables for easy access.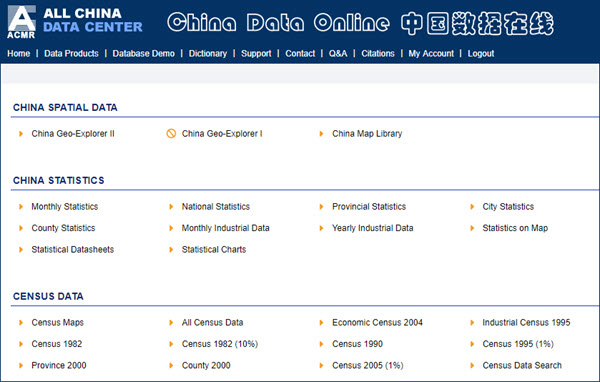 Susan Xue (UCB) is the Resource Liaison and the contact for information on this license.