New Tier 2 Resource: Lyell Collection
Four campuses (Berkeley, Davis, Los Angeles, and San Diego) now have access to the Geological Society of London's Lyell Collection as part of a new Tier 2 agreement.
http://uclibs.org/PID/330767                     B, D, LA and SD; on the Lyell Collection platform
The Geological Society of London's highly ranked Lyell Collection is an online collection comprising the GSL's journal titles, Special Publication Ebooks, and unique content (memoirs) relevant to active earth science programs. Cutting edge science sits alongside important historical material.  The collection has more than 290,000 peer-reviewed pages, 29,000 articles, and 1,000 volumes. The collection consists of:
           Individual Titles / Volumes
Special Publications Ebooks (25+ per yr ) / 400+ volumes
Journal of the Geological Society / 1845 to current
Quarterly Journal of Engineering Geology and Hydrogeology / 1967 to current
Geochemistry: Exploration, Environment, Analysis / 2001 to current
Petroleum Geoscience / 1995 to current
Scottish Journal of Geology / 1965 to current
Proceedings of the Yorkshire Geological Society / 1837 to current
Journal of Micropaleontology / 1991 to current
Petroleum Geology Conference series / 1993 to current
Memoirs / 1958 to current
Engineering Geology Special Publications /1986 to current
Transactions of the Geological Society of London / 1811 to 1856 (350 + papers)
Transactions of The Edinburgh Geological Society / 1870-1963
Transactions of the Geological Society of Glasgow / 1863-1965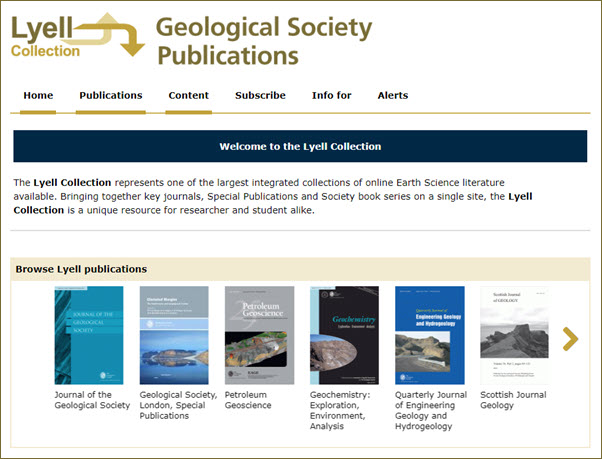 Additionally, GSL has agreed to offer UC authors (lead or corresponding author) a 25% discount on open access article processing charges (APC) during the term of the agreement.
SCP will distribute catalog records to the campuses.
Tony Aponte (UCLA) is the Resource Liaison & campus contact for the Lyell Collection.