Melvyl will switch to WorldCat Discovery
Melvyl's long-awaited switch to WorldCat Discovery, OCLC's newer discovery user interface, will happen this summer.  OCLC has announced an end-of-life date for WorldCat Local of August 9, 2019. Since April 2014, when OCLC released WorldCat Discovery as a beta product, the Melvyl team has been actively consulting with OCLC to ensure all WorldCat Local features will be integrated and fully functional in WorldCat Discovery. The Melvyl Operations Team is satisfied that WorldCat Discovery meets our functionality threshold for Melvyl and we are ready to make the switch.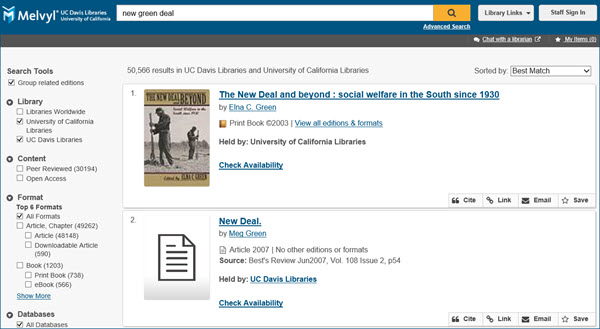 What does it mean to faculty, students and staff to make the switch?
Users will see a new interface. There have been many improvements in the user experience over the past five years of the WorldCat Discovery beta whereas WorldCat Local has not been actively developed since fall 2014.
Some advantages of WorldCat Discovery are:
WorldCat Discovery is built on OCLC's newer technology infrastructure, which supports ongoing expansion of functionality and increased interoperability with other services in the future.
The WorldCat Discovery interface automatically adapts to user devices, including smartphones, notebooks, laptops and desktop computers, to give people the same experience regardless of device.
A new WorldCat Discovery search algorithm delivers more relevant search results than the previous interfaces. OCLC continues to refine the WorldCat Discovery search algorithm to further improve relevance of search results.
Library staff, with Melvyl Staff accounts, can view MARC record displays and OCLC symbols in search results, to support work in interlibrary loan, reference and collection development.
Technically, what does it mean to make the switch?
Basically, it's changing URLs. Campus library webmasters will replace the existing Melvyl URLs and quick search box code snippet for WorldCat Local with the URLs for WorldCat Discovery on campus library websites. Additionally, campus library staff should help us spread the word to faculty, staff, and others who may have Melvyl URLs on a department or course website, course management system, or bookmarked. You can find your campus Melvyl WorldCat Discovery URL on the CDL website: https://www.cdlib.org/services/d2d/melvyl/betas.html. We will share information with campus Melvyl Operations Liaisons on how to manage the search form code and other complex URLs.
Timing and what campuses need to do to switch to WorldCat Discovery
Change your Melvyl URLs that point to WorldCat Local to point to WorldCat Discovery anytime before August 9, 2019. We anticipate each campus will choose a date after the end of their academic year so patrons will have a consistent user experience for the duration of the spring term. We have 11 instances of Melvyl – one for each campus and one union catalog instance. CDL will switch the union catalog instance (https://melvyl.on.worldcat.org/discovery) on June 17, 2019. Campuses will pick the date of their choice to switch their campus Melvyl instance. It can be before or after the union catalog switch, but must be done before August 9, 2019.
Inform CDL of your intended switchover date. Melvyl Operations Liaisons from each campus should inform CDL of their campus' intended switchover date so CDL can do needed configuration changes.
Change the code snippet for your website's WorldCat Local quick search boxes to point to WorldCat Discovery.
In the meantime,
Try WorldCat Discovery and report any problems directly to CDL at melvylops@cdlib.org. Links to WorldCat Discovery for campuses are on the Melvyl website. For general feedback, click the "Send Feedback" button  located at the bottom, right side of the Melvyl screen.
Prepare to update your Melvyl instructional materials.
Inform patrons that personal lists cannot be moved from WorldCat Local to WorldCat Discovery. See details below.
(Optional) Get a Melvyl staff account. See below.
What happens if you don't switch your URLs?
After August 9, OCLC will redirect WorldCat Local URLs to the new WorldCat Discovery URLs. This means, anyone clicking on a link or a bookmark or typing an old URL will be routed automatically to WorldCat Discovery.
The exception is that OCLC cannot redirect complex URLs. That is, OCLC will redirect URLs at the subdomain level melvyl.on.worldcat.org, berkeley.on.worldcat.org, ucr.on.worldcat.org, etc., but cannot redirect saved searches or other complex structured URLs. For example, here's a search URL: https://melvyl.on.worldcat.org/search?queryString=plastic%20pollution. Instead, it will redirect users to the subdomain https://melvyl.on.worldcat.org.
Training?
We do not believe special training is needed since the differences in the user experience are not substantial. If desired, staff may participate in OCLC webinars and training, which is offered regularly. WorldCat Discovery is available now, so there's sufficient time for staff to get familiar with it and update their documentation and training materials.
Melvyl Staff Accounts
CDL introduced staff accounts in February 2015. With a Melvyl staff account, campus library staff can view MARC records, view the OCLC # on the brief record display, and search by library holding symbol. Your campus Melvyl Operations Liaison manages these accounts. See instructions on how to get a Melvyl staff account.
What about FirstSearch?
In March 2016, OCLC announced it was keeping FirstSearch as a separate product rather than merging it into WorldCat Discovery as originally planned. In 2018, the FirstSearch interface was redesigned to give it a more contemporary look, in response to requests from the FirstSearch community. OCLC continues to enhance the technology platform that supports FirstSearch to increase security and support stability of the service and continue to monitor and change the platform as needed. Moving forward, they will continue to address changes that reflect both technology needs, feedback from the FirstSearch community, and guidance from the FirstSearch Advisory Group. Read the CDLInfo News article from July 2018 announcing the updated FirstSearch interface: https://www.cdlib.org/cdlinfo/2018/07/12/new-look-for-firstsearch-coming-july-14th/.
What happens to personal lists on WorldCat Local?
Personal lists cannot be moved from WorldCat Local to WorldCat Discovery. Neither CDL nor OCLC will be able to directly contact users with personal accounts for security purposes. We will have to work with campus staff to get the word out.
Our plan is to inform faculty, students and staff that they will not be able to access their personal account in WorldCat Local after their campus switches over; however, they will still have access to their personal account via the freely available WorldCat.org.
How does the switch relate to the Systemwide ILS (SILS) project work?
This switch is not related to the SILS project; however, some of the same CDL and campus staff working on SILS may be asked to participate in the switch. We will make every effort to keep staff involvement to the minimum.
Looking ahead
CDL will continue to publish updates in CDLInfo News: Melvyl. Feel free to contact the CDL Melvyl Operations Team (melvylops@cdlib.org) if you have any questions. We'll provide more details as we get closer to the switch.
For the latest information, see the CDL WorldCat Discovery Beta website.