UCLA works with SCP on cataloging Russia Newspapers
In response to SCP's call for Cyrillic language expertise, Peter Fletcher of UCLA, Team Leader, International Team, Cyrillic Languages Catalog Librarian, volunteered to help SCP catalog newspapers of the State Public Historical Library (Russia), an open access collection of Russian Revolutionary journals from the first half of the twentieth century, requested by a local campus. Peter coordinated with Becky Culbertson, SCP Metadata Librarian, on the project.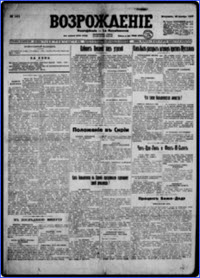 Between September and December 2018, UCLA handled searching and cataloging for 187 newspaper titles on the State Public Historical Library of Russia website. Anju Mitchell, UCLA Serials Copy Cataloging & Physical Processing Assistant, did an initial search for any existing records and found copy for 141 titles. Peter Fletcher then did a second pass for the remaining 46 titles and found copy for 13 of them.
The OCLC #s were sent to SCP, from which Becky derived online version records, and with the help of Peter, added Russian script and transliteration using a macro. This initial batch was distributed in October. For the remaining 33 titles, Anju created original ELvl 3 records, with some revisions by Peter, and sent the OCLC #s to SCP. These remaining records were distributed in December.
A big thank-you goes to Peter Fletcher and Anju Mitchell of UCLA for helping SCP catalog this open access collection that benefit the entire UC community and beyond.
To find this collection in your local catalog, you may search by title: Open access resource selected by the UC Libraries. State Public Historical Library (Russia) online journals.
___________
Article written by Kevin Balster, UCLA Cataloging & Metadata Librarian, and Shi Deng, Head, Shared Cataloging Program (SCP).