BioOne Complete moves to new platform
BioOne is launching a new website for its content aggregation, BioOne Complete. The new site will be launched on January 1, 2019. Currently, all campuses have access to this resource. The new site will replace the existing platform and will still be at http://www.bioone.org/.  Catalog records are at the title level and will redirect automatically.
According to the transition FAQ, the new platform's benefits include –
A New Look and Feel: The new site features a refreshed look and will offer enhanced functionality and improved user experience. Development of additional features and refinements will continue long past the official launch.
Improved Mobile and Off-Site Access: The new site is optimized for mobile use and offers a much-improved user experience. In addition, after creating and signing into a free personal account while on your organization's network, users at subscribing organizations will be affiliated with the organization's subscription and will have full off-site access.
Personalization Tools: Creating a free personal account allows users to save articles to a personal library, save searches, and sign up for custom email alerts.
For end-users
Accounts. For users who have BioOne Complete accounts on the existing site, the account information and most settings will carry over to the new site. Users will need to reset the password before accessing the account on the new site for the first time, but they will not need to recreate the account.
Alerts. The new site includes email alerts. As in the past, users can manage alert subscriptions on the new platform by creating a personal account.
Existing Publication Alerts and Content Alerts that were set up on the legacy platform will continue with no action on the recipient's part required.
However, existing Search Alerts that users have set up will not be migrated to the new platform. Users with Search Alerts can recreate those if desired by doing a search and then clicking a link that schedules them to receive future alerts for new content that matches the search criteria.
Bookmarks. Wherever there is change in a URL from the current BioOne Complete site to the new site, there will be permanent redirects in place from the legacy site to the new site. Whenever possible, links will resolve to their new location. Links that cannot be resolved to the new location will point to the BioOne Complete homepage. As such, any web browser bookmarks should remain stable.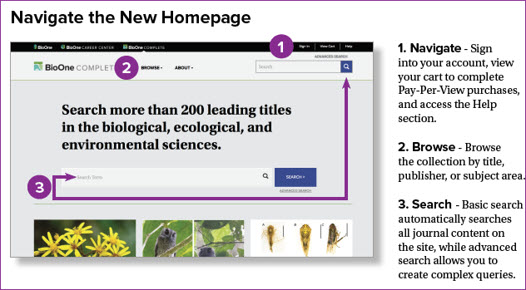 Additional information on the new site is available in the BioOne Complete Quick Guide (PDF).
Becky Miller (UCB) is the Resource Liaison for BioOne Complete.