Alison Wohlers becomes UC/WEST Shared Print Program Manager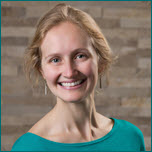 CDL is happy to announce that Alison Wohlers has accepted an appointment as Manager, Shared Print Programs for UC Libraries and the Western Regional Storage Trust (WEST) effective December 10, 2018.
Many of you have worked with Alison in her current capacity as Shared Print Operations and Collections Analyst for UC and WEST, where she has made outstanding contributions to advance the strategic agenda of both programs.  Alison's many contributions in her current role include:
Facilitating and guiding WEST collections analysis and title selection
Coordinating systems development for AGUA, CDL's shared journals decision support tool
Supporting WEST's external collaboration in the Rosemont Shared Print Alliance through active participation on its Operations Committee and working groups
Participating in national shared monograph standards initiatives on behalf of the UC Libraries
Serving as the primary contact for operational and policy information for both UC and WEST, including coordinating the work of key committees and working groups
Overseeing the UC Libraries journal archiving campaigns (JACS)
Cultivating strong working relationships with external organizations, service providers, and colleagues in the shared print community
Before joining California Digital Library as Shared Print Analyst in May of 2017, Alison worked in the Collection Management Department at Indiana University Wells Library, where among other projects she supported IU's contributions to the Big Ten Academic Alliance's Shared Print Repository. She also has a strong background in international and cultural exchange programs, social science research support, and data analysis. Alison holds a B.A. in Sociology-Anthropology from Colgate University and an M.A. in International Studies from the University of Washington.
Please join CDL along with the WEST Executive Committee in welcoming Alison as she assumes the leadership of these important programs and helps us envision new directions and possibilities for the future of shared print.