Maria Gould joins CDL as UC3 Product Manager
CDL is happy to welcome Maria Gould as our new UC3 Product Manager. In her new role, Maria will focus on persistent identifier-focused projects including the EZID service.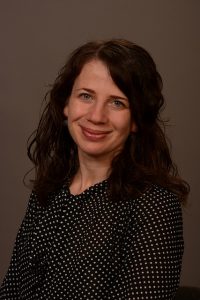 Maria was previously the Scholarly Communication and Copyright Librarian at UC Berkeley, where she provided guidance and led workshops for faculty, students, and staff on a range of scholarly communication topics, including getting published, managing and evaluating journals, navigating copyright and fair use, conducting text and data mining, and making textbooks and course materials more affordable. She also managed UC Berkeley's Open Access fund, oversaw the launch of a campus-wide Pressbooks publishing platform for Open Educational Resources and other digital projects, and co-chaired the organizing committee for the Choosing Pathways to Open Access forum in October.  Prior to joining Berkeley, Maria was at PLOS, where, among other tasks, she maintained author and editorial guidelines for seven journals, implemented content management practices for journal websites, coordinated and documented submission workflows, and developed innovative training for peer reviewers. 

In her new role, Maria will lead CDL's the strategic vision of a portfolio of innovative projects and initiatives concerned with the use of persistent identifiers throughout the scholarly communication ecosystem.  This includes leading existing and new initiatives including the adoption of DOIs for publications, DOIs for data, ARKs, ORCiDs, organizational identifiers, etc. The centerpiece of these efforts is the EZID service that makes persistent identifiers easy for UC campus projects and beyond.  

As the home of the ARK standard and an institutional member of DataCite, Crossref, and ORCID, CDL is dedicated to innovating and sustaining the social and technical infrastructure that enables the open sharing and publication of all legitimate research outputs. We are excited to have Maria on board. With her background and expertise in both librarianship and scholarly publishing, Maria is the perfect fit to support the distinct and overlapping needs of scholarly communication stakeholders and to lead CDL through strategizing and implementing persistent identifier infrastructure across the scholarly ecosystem.

Please join us in welcoming Maria Gould to CDL!