Cobweb Update: Recorded Webinar on Cobweb Functionality Now Available
Are you curious about how Cobweb can support your web archiving work or how you might use the platform to initiate or otherwise participate in collaborative web archiving initiatives? Check out the slides and recorded video from a recently held Cobweb webinar to learn more about how the platform supports collaborative collection development for web archives. You can also start getting familiar with platform functionality – Cobweb is now available as a demonstration site: https://cobwebarchive.org!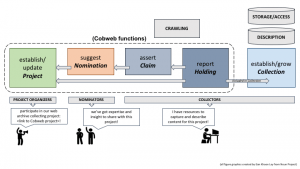 The recorded webinar (originally held on 10/30/2018) covers outcomes of Cobweb prototype testing and development and introduces core functionality of the platform by walking through approaches to searching, establishing and tracking collecting projects, and engaging in collection development for web archives from nominating web resources through to selection and reporting on their inclusion in web archive collections.
This project is made possible in part by the Institute of Museum and Library Services, #LG-70-16-0093-16.