WorldCat Discovery beta: Filter to open access content
The WorldCat Discovery installation on October 18, 2018 included the following new features and enhancements.
The running list of release notes can be found at https://help.oclc.org/Discovery_and_Reference/WorldCat_Discovery/Release_notes. (Note that many of these enhancements do not have an impact on Melvyl since we are currently using WorldCat Local and are only in Preview mode for WorldCat Discovery.)
New Features and Enhancements
OCLC commits to privileging open access content. OCLC partners with publishers and aggregators to advance methods that privilege open access collections and provide greater visibility and accessibility to open content. OCLC helps leverage the access and discovery of open access content in our services. Beginning with this release, OCLC will start work on several improvements and collaborations to improve the user experience and prioritize open access content.
Filter to open access content from the WorldCat.org database.  Open and freely available content is published digital content that is free, immediate and online, with the rights to use that content fully in a digital environment. Since this content is difficult to identify, a new open access content filter helps users leverage a curation of WorldCat.org source databases that provide open content.
When searching in WorldCat Discovery, users can filter their search to display only open access search results: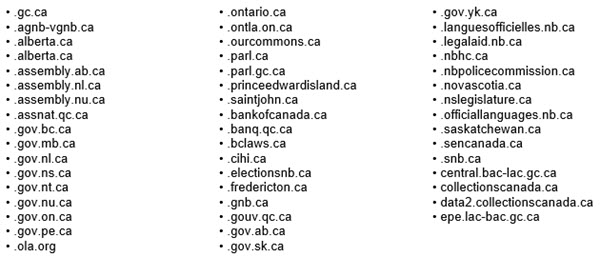 The content filter is also available on the Advanced Search page: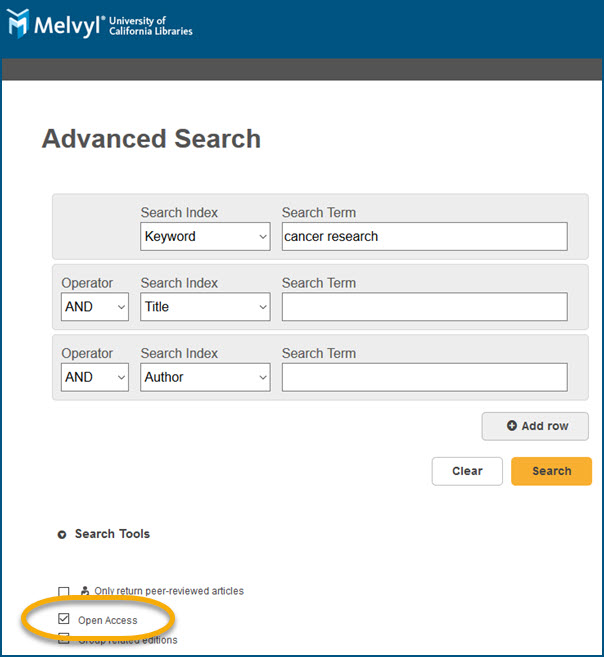 The open access content filter narrows a user's search to a subset of WorldCat.org databases known for providing open access content. The WorldCat.org must be selected as a database to retrieve results from the filter.
The open access subset of databases from WorldCat.org will continue to grow beyond those currently available:
BioMed Central
Directory of Open Access Books
Directory of Open Access Journals
HBO Kennisbank
Hindawi eJournals
KnowledgeUnlatched
OAIster
Open Editions Revues.org
Open Access Publishing in European Networks
Opened Hypotheses
Opened Books
Paperity
Project Euclid
SciELO Journals
WorldCat records with a 506 subfield a of "Unrestricted Access Online"
View detailed author and title information from 245 subfield c within detailed records. Due to collaboration with the Music OCLC Users Group (MOUG), additional responsibility information contained in the 245 subfield c of MARC records is now used to differentiate individuals' relationships to a work. The additional responsibility information includes composer, librettist, arranger, and performer(s), among others.
Users can find this content in the Description of detailed records labeled "More author/title information":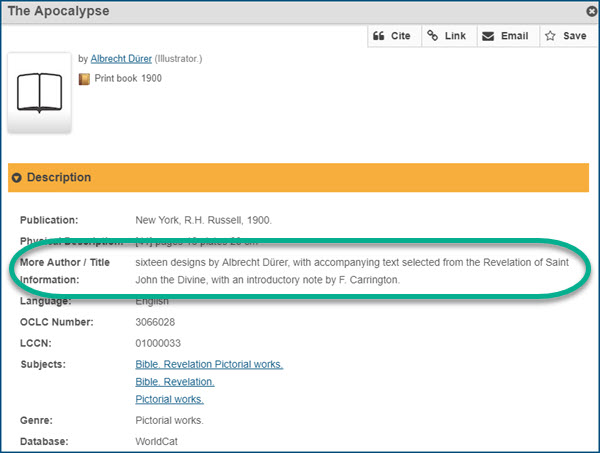 ---
WorldCat Discovery (WCD)
OCLC is working on major changes to WorldCat Local: a new discovery interface with major functional and design improvements. WorldCat Local will be replaced by a new platform called WorldCat Discovery.
Information on the WorldCat Discovery (Beta) for the UC campuses is available on the WorldCat Discovery Beta webpage. This webpage includes
Links to the UC campus (and union) WCD-Beta instances where you can test drive the functionality
OCLC's project timeline (e.g., when will UC migrate to the new platform?)
FirstSearch
In March 2016, OCLC announced it was keeping FirstSearch as a separate product rather than merging it into WorldCat Discovery as originally planned. In July 2018, OCLC visually updated the interface to display "an updated, more contemporary look." The changes are limited to a restyling of the new interface and do not affect functionality, navigation or site structure.