HathiTrust Turns 10!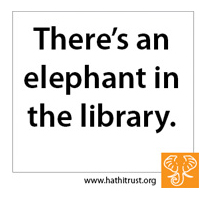 October 13 marks the 10th anniversary of the HathiTrust Digital Library. Ten years ago, HathiTrust was launched jointly by the 12-university consortium known as the Committee on Institutional Cooperation (CIC) and the 10 university libraries of University of California system. The University of Michigan served as the primary host organization for HathiTrust, and CDL served to coordinate UC participation. HathiTrust was established to create a digital preservation repository and access platform to share digitized collections. Just 10 years later, the list of collaborating partners has grown to over 140 libraries from across the United States and includes libraries in Canada, Spain, Lebanon, and Australia. The day it launched, HathiTrust included 2 million digitized volumes from partner library collections of which 16% were in the public domain and open for reading access worldwide. Today the HathiTrust corpus includes 16.7 million volumes of which over 6 million (or roughly 38%) are in the public domain.
In 10 years HathiTrust has achieved a global reach – the corpus includes content in over 450 languages, and more than 50% of its patrons are from outside the United States.
UC and HathiTrust
From the start, UC Libraries have been major contributors to HathiTrust. UC Libraries have contributed over 4.3 million volumes to the HathiTrust corpus, all scanned via mass digitization projects with Google Books and the Internet Archive or scanned locally by campuses. UC Librarians have participated in HathiTrust leadership and served on every HathiTrust committee and working group, setting vision and helping to shape HathiTrust initiatives. Altogether hundreds of UC librarians and staff have worked to make HathiTrust a successful collaboration and digital repository! To learn more about UC engagement with HathiTrust, visit: https://www.cdlib.org/services/hathi/.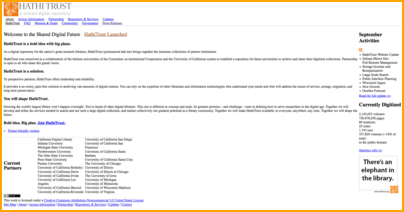 "Hot Tea Trust"
Hathi, the Hindi word for elephant, was incorporated into HathiTrust's name to underscore the immensity of its undertaking, and to evoke memory, wisdom, and strength. However, even after 10 years some of us still struggle to pronounce HathiTrust correctly. Perhaps the confusion may finally be put to rest with the release of this playful take on the HathiTrust logo: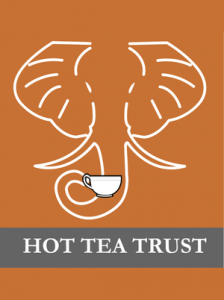 Happy anniversary and congratulations HathiTrust!
More Information
*"Hot Tea Trust" by Jason Colman is licensed under CC-BY 2.0.