Contemporary Women's Issues moves to new Gale platform
Recently, Contemporary Women's Issues moved from the RDS platform to Gale's InfoTrac platform.  Contemporary Women's Issues offers comprehensive coverage of issues that influence women's lives across the globe.  The database provides access to current full text and pertinent backfile content covering topics including civil rights, health, education, professional development, and entrepreneurship from 400+ titles.
http://uclibs.org/PID/12650     (B, LA, R, SB, SC, SD, SF; on Gale's InfoTrac platform)
On some campuses, the 'Databases' list entry for CWI still points to the non-functioning 'RDS' URL. These entries will need to be updated to use the PID listed above.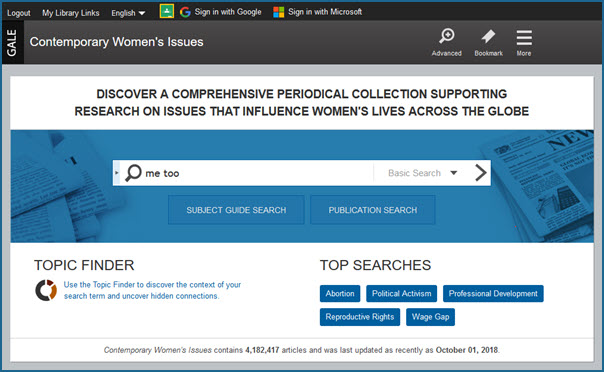 Exclusive features, including Topic Finder and a mobile-optimized interface, support and enhance the search experience.
Carla Arbagey, UCR, is the Resource Liaison for Contemporary Women's Issues.