Robin James joins CDL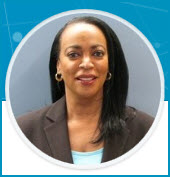 Robin James joined CDL on August 2nd as Günter Waibel's new interim Executive Assistant. She comes to us courtesy of UCOP's temporary staffing program. We're hoping that Robin will stay with us until the open recruitment for Khatira's position has concluded.
Robin has B.S. in Business Administration, and has held Executive Assistant positions with Virgin Atlantic, UBS Investment Bank, and General Electric. Most recently, she concluded a temporary assignment with UCOP's Retirement Administrative Services Center.  Welcome Robin!