Enhanced Cochrane Library platform debuts
On August 7, 2018 the redesigned and enhanced Cochrane Library platform was launched.
Currently, six campuses (Berkeley, Davis, Irvine, Los Angeles, San Diego and San Francisco) participate in the license of the Cochrane Library.
(http://uclibs.org/PID/4649)       (B, D, I, LA, SD, SF; on the Cochrane Library platform)
According to the Cochrane Community announcement, all aspects of the Cochrane Library have been redesigned to improve the Cochrane Library user experience including:
Improved article design for Cochrane Reviews, CENTRAL records, and all content.
Search expanded across all content types, including Cochrane Reviews and Protocols, CENTRAL, Editorials, Special Collections, Cochrane Clinical Answers, and other systematic reviews from Epistemonikos, via a new federated search feature.
A new Spanish language portal and discoverability of translated content in multiple languages via basic search.
Cochrane Clinical Answers now fully integrated into the Cochrane Library.
Improved search results display, including new filters for all content, and multiple record export options.
Advanced search tabs are better integrated, and MeSH search feature improved.
Linking CENTRAL records to Cochrane Reviews.
Easy navigation from Cochrane Reviews to related podcasts, Editorials, and Cochrane Clinical Answers.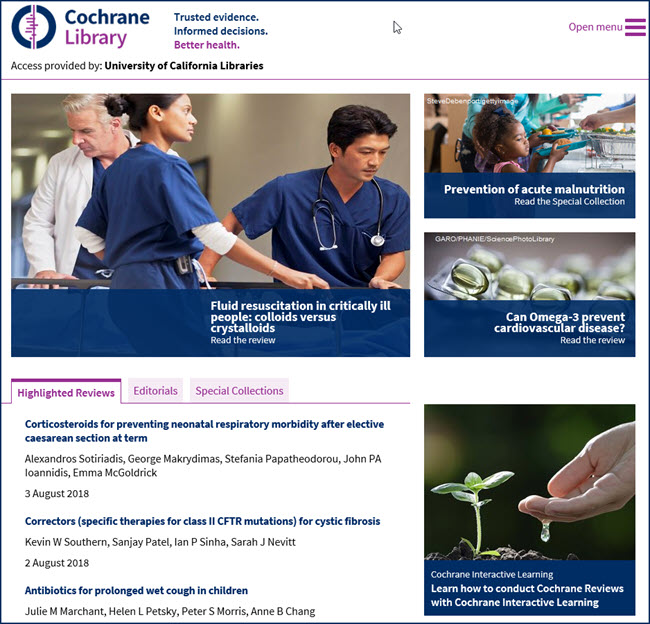 Note: All previously saved searches will be transferred onto the new search platform with no action required on the part of users and customers.
If you have any queries or concerns, please contact the Wiley customer support team (cs-cochrane@wiley.com).
Tiffany Moxham (UCR) is the Resource Liaison for the Cochrane Library.