ProQuest platform interface enhancements will be rolled out July 26
The July 26, 2018 ProQuest platform release will introduce redesigned basic search and search results pages. These improvements will put more emphasis on source types to help researchers retrieve more relevant results from across the platform.   These changes only affect the interface and do not involve changes to URLs or landing pages.
Basic Search page
According to the ProQuest platform release news, the Basic Search page enhancements (subject to change) include:
Source type limiter: A new horizontal source type limiter above the basic search box will be added to help users limit their results to the content types most meaningful to them. The limiter will display the top three to four source types available within the users selected databases. Further source types will be available under a 'More' menu. The order of source types is determined by usage analytics and qualitative feedback from end users.
Search tips: To better support researchers at the point of need, thoughtfully placed help panels will provide search guidance at the point of the most need. To make room for the help panels, the subject vertical links were removed (but these can still be accessed via the 'Databases' page).
"You are searching…" statement: To better orient researchers who start their search from the basic search page, a statement will be added that tells them how many databases they are searching and the top source types contained within those databases.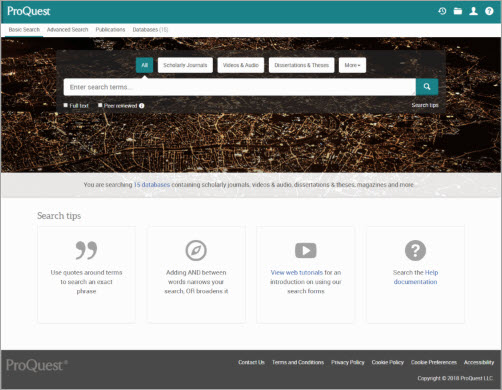 Search results page
Filters: Through a close examination of user behavior, the filters menus have been simplified so that the most useful are displayed by default and the less used filters are made accessible from the 'More' menu.
Additional improvements
Records counts are removed from the Source Type filter
The date picker has been simplified
Clearer indicator of Full text/Abstract/Details
Revised display for inline images
Long document titles will be truncated/limited to 3 lines
The check boxes for full text/peer reviewed were removed from underneath the search field on results page.