Meet Claudia Conrad – D2D's Metadata Product Manager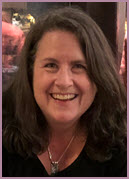 Claudia Conrad is joining CDL's D2D team as Metadata Product Manager. She will be starting on July 30. Claudia brings a wealth of experience as a product manager, most recently with Innovative Interfaces. She is experienced in agile software development with certifications as scrum master, product owner, and practical product management. Claudia will be working closely with CDL's Zephir (HathiTrust's Metadata Management System) and Mass Digitization teams.
Earlier in her career she worked in the apparel industry as a product manager before segueing into the systems side of the business.  She earned her BS in Textiles and Clothing from UC Davis (go Aggies!), and her MLIS from Simmons College in Boston. Most recently, she's joined the board of directors of West Edge Opera in Berkeley.  She's an avid knitter, and loves to travel. Welcome, Claudia!