SCP Record Distribution Surpasses One Million Records
As of June 26, 2018, the CDL Shared Cataloging Program (SCP) reached a milestone. More than one million records have been distributed to UC campuses over the years:
Databases: 743 records; 773 package links
Monographs: 936,973 records; 946,247 package links
Serials:  69,370 records; 100,538 package links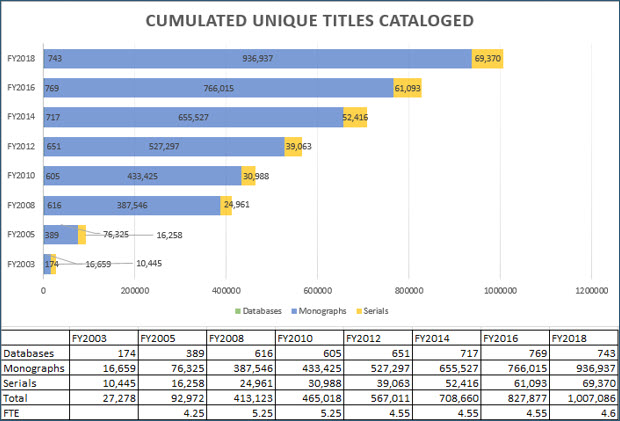 Established in January 2000, based at the UC San Diego Library, SCP provides catalog records to the ten UC campuses for shared licensed and select open access electronic resources. The SCP records live in UC San Diego's local integrated library system (ILS) and are differentiated from UC San Diego's records primarily by a unique location code. Batch cataloging techniques have been widely applied to SCP cataloging, especially for monographs.
SCP distributes catalog records on a weekly basis to the ten UC campuses. The SCP record distribution process was first documented in 2002.[i] Although there have been a few adjustments, the fundamental elements have remained fairly stable since then. A 2012 study, as part of the UC Next Generation Technical Services Initiative, found SCP record distribution to be time-saving and cost-efficient.[ii]
For more information about SCP, please visit https://www.cdlib.org/services/collections/scp/
Or read SCP's recently published article "One for Nine Ten: Cataloging for Consortia Collections, a UC model", in the journal Cataloging & Classification Quarterly.
[i] Patricia Sheldahl French, Rebecca Culbertson, and Lai-Ying Hsiung,  "One for nine: the shared cataloging program of the California Digital Library," Serials Review 28, no. 1 (2002): 4-12. doi:10.1016/S0098-7913(01)00169-1
[ii] UC NGTS POT 5 Report. "Assess the Benefits and Risks of Stopping the Distribution of Bibliographic Records to the Ten Campuses for their Local OPACs," March 16, 2012. https://libraries.universityofcalifornia.edu/groups/files/ngts/docs/pots/pot5_deliverable_1.pdf