Cobweb Update: Establishing a Collaborative Collecting Project
Over the next few weeks, we will be conducting user testing of the Cobweb functional prototype along with a few high-fidelity wireframes to learn from potential users about what they'd consider most useful in a collaborative collection development platform. One of the core functions of Cobweb that we're getting in front of testers is establishing a new collecting project in order to get a collaborative collecting initiative off the ground, as might be the case, for example, in responding to a current event-driven collection imperative.
What to Know to Start a Web Archives Collecting Project
Before initiating a collecting project, web curators often need to know whether and what kind of collecting activity has already happened around a given topic and to know what kind of interest others may have in its documentation. It's often the case that a topic can best be documented by encouraging and facilitating the participation of more than one organization with collecting capacity to spare and as many individuals as have topical expertise to share. And it certainly happens that multiple organizations may approach documenting the same topic, sometimes independently and other times in coordination. The Cobweb platform is intended to address both of these use cases. We're continuing to build a registry of descriptions of seed URLs that have already been crawled and are held by organizations as part of their pre-existing web archive collections. (As illustrated below, it's worth noting that Cobweb is not the repository of record for such descriptions, nor for web archive collection storage or access, but rather is an aggregator of metadata describing collections and the seeds they include.)

By building as comprehensive a registry as possible, we are providing vital transparency to project organizers to help them understand how their collecting intentions might overlap with or can complement collecting that's already happened. For example, "fake news" is a timely topic and we're aware of multiple approaches to documenting this online phenomenon, though visibility into both captured content as well as content that's intended to be captured on this topic is currently hard to come by. When they establish collecting projects in Cobweb, project organizers are making visible their intentions so that others can determine how their web archiving activities may fit in. Ideally, participation in Cobweb will allow for better informed collecting as well as potential collaborative partnerships.
Setting Up and Describing a New Collecting Project
Cobweb provides curators of web archives the ability to establish and organize thematically-driven collecting projects that can include participation from multiple organizations and individuals.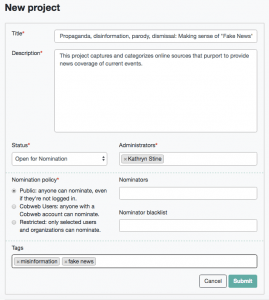 Once logged in, a project organizer can set up a new project and add some descriptive and administrative metadata to that project. Project organizers can identify other project administrators and can set the status of the project, whether it's open for nominations or inactive, for example. Project organizers are also able set a nomination policy for the project, whether it's open for public nominations or requires that nominators are either logged in to Cobweb or included within a defined list of nominators.
Additionally, project organizers and participants will be able to add project-level notes to communicate with each other and add information that is not captured in structured metadata elements.
Elements available for describing a Cobweb project include a title, narrative description to indicate the topical scope and motivation behind the collecting project, and tags. Within Cobweb, tags can be created anew or are made available for re-use to describe not just projects, but also the seed URLs that are nominated to projects. These descriptors will serve as an important means of finding and making connections between Cobweb projects and resources, helping participants identify where they can best apply their expertise and resources to archiving the web.
To get involved with or simply ask for more information about Cobweb, contact Kathryn Stine, Cobweb Outreach Manager.
Cobweb is a collaborative project of CDL, Harvard Library, and UCLA Library. The project is made possible in part by the Institute of Museum and Library Services, #LG-70-16-0093-16.