Meet Sarah Houghton, CDL's new Discovery & Delivery Director
The California Digital Library is delighted to announce the appointment of Sarah Houghton as the new Director of the Discovery & Delivery (D2D) program effective August 1st 2018.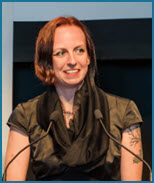 Sarah comes to the California Digital Library after serving seven years as the Director for the San Rafael Public Library, where she oversaw all library services at two library locations and the digital library branch. Sarah has worked in libraries for over two decades, including a decade as an emerging technology librarian, and is an experienced leader in a consortial context.
Most recently as a member of the MARINet Board of Directors, Sarah was part of the team that expanded the consortium's membership beyond the Marin public libraries to include Dominican University and the College of Marin. As a result, students of both institutions, as well as all residents of Marin, benefit from access to a wider array of resources and services. Before working for the City of San Rafael, Sarah was the Digital Futures Manager for the San Jose Public Library where she worked in a joint public/university library setting co-managing digital technology projects for the university and public libraries.
Sarah has a Master's degree in Library and Information Science, a Master's degree in English and Irish Literature, and a Bachelor's degree in English Literature.  She has served in multiple leadership positions with the California Library Association, American Library Association, Library and Information Technology Association, and Code for Marin.  Sarah's book, Technology Training in Libraries, won the 2011 ALA Library Science Book of the Year Award. Her long-standing blog was named one of NPR's favorite librarian blogs in 2008 and was named the best library blog by Salem Press in 2011.  She has presented over 200 keynotes, conference presentations, and webinars in a dozen countries on topics ranging from emerging technology to multigenerational management to library ethics in the digital age. "What I particularly admire about Sarah is that throughout her career, she has shown that she can communicate complex topics to a broad range of stakeholders, and create a shared understanding that paves the way for shared action. I am delighted to welcome Sarah to CDL," notes Associate Vice Provost & Executive Director of CDL Günter Waibel.
As Discovery & Delivery (D2D) Director, Sarah will work with stakeholders at UC and beyond to develop a forward-thinking vision for the essential services and technologies that connect faculty, students and staff to UC collections and open access materials.  Her program ensures the successful operation of D2D services and initiatives, which are critical to discovery and resource sharing within the UC system, as well as regional and national initiatives such as Western Regional Storage Trust (WEST) and HathiTrust.  Sarah will be a member of CDL's senior leadership team.
__________________________
About the California Digital Library
CDL was founded by the University of California in 1997 to radically reconceive the way scholarly information resources might be published, archived, and accessed in the context of rapidly emerging technologies. Today, CDL provides transformative digital library services, grounded in campus partnerships and extended through external collaborations, that amplify the impact of the libraries, scholarship, and resources of the University of California.  Through CDL's commitment to sustainable open scholarship, an ever-wider range of freely available research informs ever-more potent responses to real-world challenges. Together with the UC campus Libraries and other partners, CDL amplifies the academy's capacity for innovation, knowledge creation and research breakthroughs and enables the University of California to produce a measurable impact valued by the state, the nation and the world.