New Tier 2 Resource: Fūzoku Gahō
Thanks to the contributions of 7 campuses (Berkeley, Davis, Irvine, Merced, Riverside, San Diego and Santa Barbara), Fūzoku Gahō is now available to users at all ten campuses and UCOP through JapanKnowledge at https://japanknowledge.com/library/.
http://uclibs.org/PID/302248     All UC campuses; on the JapanKnowledge Lib platform
Note: There is a limit of 4 simultaneous users; if the access is denied, please try again later.
This resource provides online access to a historical journal Fūzoku Gahō which was originally published in Tokyo between February 1889 and March 1916 in 518 issues with over 38,000 articles. It is said that Fūzoku Gahō was the first graphic magazine produced in Japan.  The articles published on the journal cover a wide range of subjects, including social and cultural trends and conditions in the Edo, Meiji, and Taisho periods, customs, history, literature, things/objects and affairs, geography, war and disasters.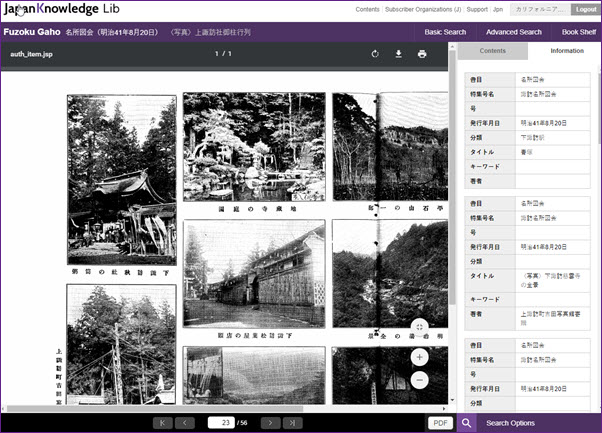 For more information about this resource, please check at: https://japanknowledge.com/en/contents/fuzokugaho/index.html.
If you have any questions, please contact the Resource Liaison, Toshie Marra (tmarra@library.berkeley.edu).