New Mass Digitization Section Added to CDLib.org
The Mass Digitization section on the CDLib.org website has a brand new look!  New and updated content describes the work, goals, and projects of the Mass Digitization team. Included is information on where to find, access, and use UC's mass digitized collections, as well as details of the history of mass digitization at UC. The pages are intended to keep UC librarians, staff and students, and the interested public, informed about mass digitization and other digital content development projects at UC, as well as the team's activities.
Last year, Kathryn Stine joined the Mass Digitization team as the manger of digital content development and strategy. Kathryn's new role includes management and coordination of web arching initiatives, including Cobweb, an IMLS-supported platform to facilitate collaborative collection development for web archives. Support for web archiving is a new activity for the Mass Digitization team as it expands into new areas of digital content development.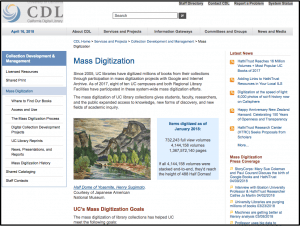 The new HathiTrust copy is broken into the these subsections: