ARKs in the Open: Project Update #4 on the ARK Identifier Summit and Experts Day
The Bibliothèque nationale de France (BnF) organized an ARK Identifier Summit followed by an ARK Experts Day in Paris last week. The California Digital Library's John Kunze, Identifier Systems Architect and creator of ARKs, was invited to give the opening keynote ("The Covenant of the ARK") at the Summit and lead the Experts Day.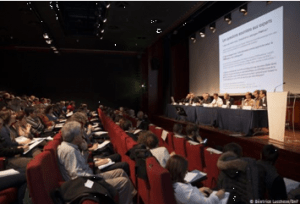 "The venue was packed all day with fantastic energy and diverse perspectives from publishing, research, archives, and libraries. The organizers and presenters were all outstanding and I was very honored to participate in this exciting event" said Kunze.BnF was an early adopter of ARKs and many French-speaking institutions followed their lead. For example, almost forty francophone organizations joined the ARK community in 2017.The ARK Summit had more than 250 people attend, selling out the auditorium as well as an overflow room. The Experts Day tabled half a dozen proposals and featured discussion by a small group of invested stakeholders. Both events signaled a big step forward toward creating a community around ARK implementation.The discussions included details on the ARKs in the Open initiative as well as other topics important to ARK users, such as:
Modifications to the ARK specification and preparing to submit the ARK specification as an IETF Informational RFC,
How to track the number of minted ARKs world-wide
Planning to test the use of persistence statements, and
Developing a survey to gauge the priorities and challenges of ARK users.
In addition to excellent conversation, the events in Paris bolstered support for the ARKs in the Open project.
The list of organizations expressing interest in the project is growing:
Bibliothèque nationale de France
Bibliothèque nationale de Luxembourg
Consejo Nacional de Investigaciones Científicas y Técnicas – Argentina
The British Library
Family Search International
Institut Internationale de la Marionnette
National Center for Atmospheric Research
Portico
Sempiternelia
Texas A&M University Libraries
University College Dublin
University of California, San Francisco
University of Houston Libraries
University of Maryland
University of North Texas
University of Utah
If you'd like to stay up-to-date on the latest developments in this project, please sign up for the ARK mailing list, http://bit.ly/2o7aNew or visit our wiki. To express interest in the ARKs in the Open project, please fill out this form, http://bit.ly/2C4fU8f.