Momentum Press Ebooks move to iG Library platform
Momentum Press ebooks are moving from the ProQuest ebrary platform to the iG Library platform, which is the same platform that hosts the Business Expert Press ebooks. A Tier 2 resource, Momentum Press was purchased as individual collections. Individual availability for these multi-campus titles may vary per campus.
On the iG Library portal homepage (http://uclibs.org/PID/241052), you can use the Filters link
at the top of the left sidebar to display links to the Business Expert Press and Momentum Press collections.  Or, you can find subject area links for the 'MP Collections' at the bottom of the left sidebar.
The iG Library User Guide explains the platform interface in detail.
PIDs have been updated and UC-eLinks has been activated on the new platform.  Due to the upcoming holidays, SCP records with updated ebook links will be distributed to the campuses on January 8, 2018.
Julia Gelfand (UCI) is the contact for information on this resource.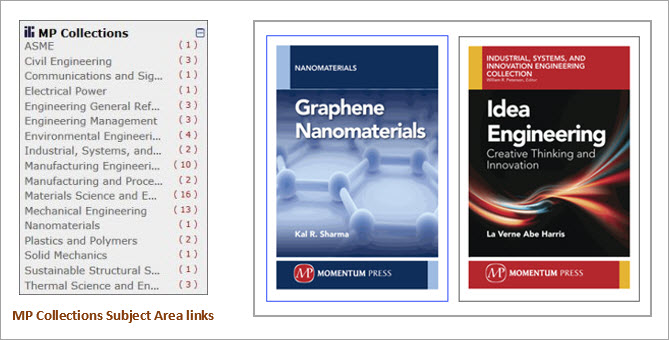 Graphene Nanomaterials: http://portal.igpublish.com/iglibrary/search/MPB0000093.html
Idea Engineering:  http://portal.igpublish.com/iglibrary/search/MPB0000090.html