WorldCat Discovery beta: Maintain filters from search to search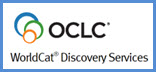 This month's WorldCat Discovery installation on August 17, 2017 included the following new features and enhancements.
The running list of release notes can be found at http://www.oclc.org/support/services/discovery/release-notes.en.html.
(Note that many of these enhancements do not have an impact on Melvyl since we are currently using WorldCat Local and are only in Preview mode for WorldCat Discovery.)
New Features and Enhancements
Maintain filters from search to search. Library search boxes already leverage the power of pre-set filters, and WorldCat Discovery now lets users preserve their search context by reapplying these filters. Users searching from their library search boxes with filters, such as formats or date ranges, can use them multiple times throughout a search session. This means easier workflows for your users.
How can your library search box leverage this for more contextual searching and for a wide variety of users? Here are a few examples:
Undergraduate students working on an assignment that requires use of only articles from the last five years in a designated discipline could be pre-filtered on format, date and databases searched.
Faculty can find exact editions by searching Libraries Worldwide with the "Most Widely Held" sort option.
Users searching only books could be supported with multiple pre-set filters to as many format types as needed, excluding the less-relevant book formats (such as microform).
Libraries with multiple branches can limit search results to a specific, or multiple, branch scopes.
Course guides can have a custom search box that only searches over a curated list of databases.
The "Selected Filters" box contains options to turn off this feature, to remove individual filters from the search and to reset the search to the configured defaults:


The search selections stay in place even when a new search query yields zero results. Users can easily deselect filters until results match their selections:

Scope defaults no longer appear as filters. The default scope is no longer treated as a filter. With this change, users see an interface with library-determined default settings each time they access the service. The new "Reset" option clears all filters, turns off "Keep selections for next search" and does not treat the default scopes as filters.
Users can also find the default scope options in the scope statement:

Sort option is unaffected by filtering choices. The default sort option applies until a user changes the "Sorted by" to another sort option.
Known Issues
Improving 'Did you mean' suggestions for a better search experience. Due to a degradation in 'Did you mean' suggestions, OCLC turned off this feature on July 27. While it is unavailable, OCLC will re-implement an open-source solution, which:
Shows the corrected word in context of the user's entire query
Features globalized spelling suggestions based on the user's location
Includes names as suggestions
Blocks numbers and index names (such as OCLC numbers or "jail") from providing suggestions
Preserves all of a user's punctuation and capitalization in the 'Did you mean' suggestion
OCLC regrets the disruption and looks forward to providing high-quality and meaningful 'Did you mean' suggestions in the coming months.
---
WorldCat Discovery (WCD)
OCLC is working on major changes to WorldCat Local: a new discovery interface with major functional and design improvements. WorldCat Local will be replaced by a new platform called WorldCat Discovery.
Information on the WorldCat Discovery (Beta) for the UC campuses is available on the WorldCat Discovery Beta webpage. This webpage includes
Links to the UC campus (and union) WCD-Beta instances where you can test drive the functionality
OCLC's project timeline (e.g., when will UC migrate to the new platform?)
FirstSearch
In March 2016, OCLC announced it was keeping FirstSearch as a separate product rather than merging it into WorldCat Discovery as originally planned. We do not yet have a timeline for the new FirstSearch beta.