WorldCat Discovery beta: Saved Searches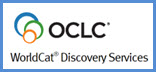 This month's WorldCat Discovery installation on June 15, 2017 included the following new features and enhancements.
The running list of release notes can be found at http://www.oclc.org/support/services/discovery/release-notes.en.html.
(Note that many of these do not have an impact on Melvyl.)
New Features and Enhancements
Save time on repetitive research tasks with saved searches. Experienced researchers often create queries with complex Boolean logic, multiple facets and specific databases to track new publications from an array of disciplines. To reproduce complex or simple research queries repeatedly, WorldCat Discovery staff and WorldShare Management Services users can save searches to their user account.
Anyone with a WorldCat Discovery user account may save up to 100 searches and manage searches from their account page.
After authenticating, WorldCat Discovery users will see the option to save the search under "Search Tools":


Clicking "Save this search" produces a confirmation of the saved search criteria with an action to view saved searches: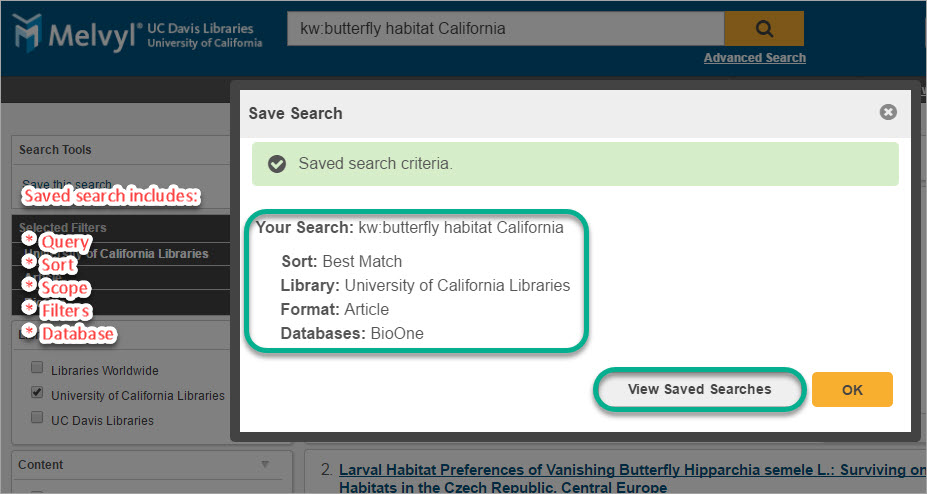 Access saved searches from the navigation bar or from 'your account' dropdown menu:


View Details, re-run or Delete saved searches:
Redesigned display of action buttons simplifies user experience.  Action buttons on search results and detailed records now display horizontally (rather than the previous vertical display). Also, the buttons from the detailed record display on the left side of the screen were removed to reduce duplicate actions.

New relevance algorithms help users find items. Over the last several months, the WCD search algorithms underwent rigorous internal testing and piloting with member libraries. From this review analysis determined a need to create two different relevance options: Best Match and Recency. Best Match, formerly known as Relevance Only, retrieves known items that are good matches on visible fields; and Recency retrieves more recent items, often considered more relevant for some academic disciplines. The previous Library and Relevance algorithm has been renamed Library and continues to surface local library holdings.
These adjustments are part of our ongoing effort to increase the relevance of search results that began with the release of a new search algorithm in August 2016.
To clarify:
"Relevance Only" has been renamed "Best Match." Users with "Relevance Only" as their current default are automatically transitioned to the "Best Match" option.
"Library" replaces "Library and Relevance." "Recency" is an entirely new option.


Please note: WorldCat Discovery relevance options are available only in WorldCat Discovery, and not WorldCat Local.
Successfully manage saved items with intuitive list management. Users can manage their "My Items" more intuitively with clearly-labeled actions.


As always, items on the "My Items" page are temporarily stored until permanently added to a "My Personal List."
After logging in with a WorldCat Discovery user account or WorldShare Management credentials, users will see the options to either create a new list or to move items to an existing list.

Immediately cite multiple My Items and My Personal Lists. Users can cite multiple items or entire lists from their "My Items" page or from their "My Personal Lists" when logged in. Users can still export lists and items for use in a citation management system.
Users may select multiple items to cite directly from WorldCat Discovery. Items will display the citation dialogue in the users' preferred citation style.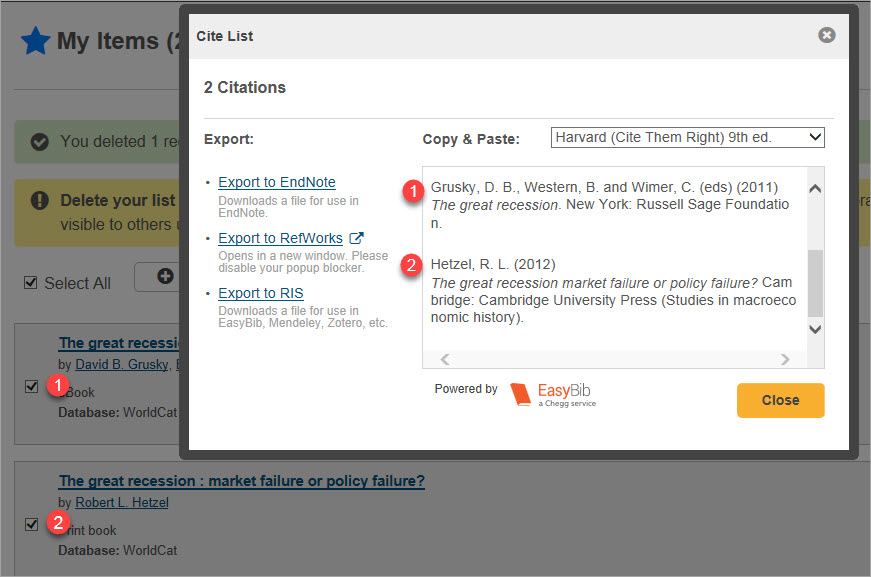 The "My Personal Lists" page allows users to delete entire lists or to cite entire lists.

WorldCat Discovery (WCD)
OCLC is working on major changes to WorldCat Local: a new discovery interface with major functional and design improvements. WorldCat Local will be replaced by a new platform called WorldCat Discovery.
Information on the WorldCat Discovery (Beta) for the UC campuses is available on the WorldCat Discovery Beta webpage. This webpage includes
Links to the UC campus (and union) WCD-Beta instances where you can test drive the functionality
OCLC's project timeline (e.g., when will UC migrate to the new platform?)
FirstSearch
In March 2016, OCLC announced it was keeping FirstSearch as a separate product rather than merging it into WorldCat Discovery as originally planned. We do not yet have a timeline for the new FirstSearch beta.