Michael Urashka Joins CDL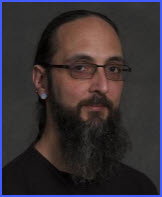 Michael joins the Infrastructure and Applications Support (IAS) system administration team to expand our capacity and help us create the next generation of CDL infrastructure in the Amazon Web Services (AWS) cloud.  Michael comes to CDL from Lawrence Berkeley National Lab, where he had been employed in various different roles over the past 13.5 years; at one time, he worked on the 2nd floor of our building!  Most recently, his position was in the Infrastructure Services Group at the NERSC high-performance computing facility.  Prior to his appointment at NERSC, Michael maintained and developed applications and services for LBNL's Advanced Light Source facility as a Data Acquisition & Controls Engineer.
His B.S. degrees are in Microbiology and Cellular & Molecular Biology, and he has an M.S. in Systems Management with a focus on Software Engineering.
Outside of work some of the activities he enjoys include walking his dog, cooking, cycling and attending live music events.
CDL is pleased to have Michael join the team and expect him to be a significant contributor to our success going forward.  Welcome, Michael!