Introducing the UC-eLinks Sidebar
Ex Libris has launched a new option for direct linking in SFX (UC-eLinks): the DirectLink sidebar. The sidebar appears on the right side of the screen while the full text appears on the left side of screen. The DirectLink Sidebar replaces the DirectLink banner, which appeared at the top of articles. After successful testing by CDL staff and campus UC-eLinks administrators, CDL went live with the DirectLink sidebar on April 17, 2017.
The DirectLink sidebar includes many features that are beneficial to the University of California community:
Users will link directly to articles more frequently, bypassing the full UC-eLinks menu, since the DirectLink Sidebar uses the updated HTML5 "iFrame" method; more vendors allow their content to be displayed in the iFrame than the HTML4 "frame" method used by the DirectLink banner.
The sidebar includes a Full UC-eLinks Menu button which opens the complete UC-eLinks menu.
The Help link (that opens the "Report a Problem with UC-eLinks" online form) appears just to the right of the UC-eLinks logo.
The sidebar can be manually collapsed and re-expanded. By default, it is expanded.
In the case where a vendor does not allow their content to be viewed in an iFrame, UC-eLinks will be configured to show the full menu.
The sidebar is W3C AA compatible for accessibility.
Screenshots of the DirectLink Sidebar in action

No 'Close frame' (x) Button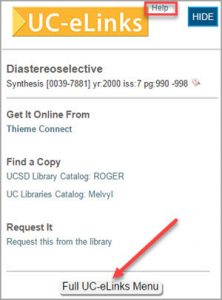 Users have commented that the UC-eLinks sidebar does not include a 'Close frame' (X) button so users can copy the article URL into a bibliography without the extraneous UC-eLinks coding.  Due to the underlying technology of the sidebar, adding this button is not possible.
Work-around
To get rid of the frame entirely, click the Full UC-eLinks Menu button at the bottom of the sidebar.  This displays the entire UC-eLinks menu.  You can then use the Get It Online From link to display the article's full text, or use any of the other menu options, without the frame.
The CDL UC-eLinks team would like to thank Tab McDaniel and Michele Mizejewski at UCSF for their assistance with design and usability recommendations.
If you have any questions about the DirectLink Sidebar, contact the CDL UC-eLinks team at ucelinks@cdlib.org.