Chemical and Engineering News Goes Global
Chemical and Engineering News, the "news edition" of the American Chemical Society has recently undergone a change.  As of January 2, 2017, ACS Publications has expanded the breadth of this journal for organizational subscribers with the addition of C&EN Global Enterprise.  According to ACS Publications, "With C&EN Global Enterprise, researchers and scientists at thousands of subscribing institutions can access all the authoritative journalism ACS's premier newsmagazine has to offer alongside peer-reviewed research from more than 50 journals and 1,500 eBooks."
Going forward, the UC campuses have access to C&EN Global Enterprise and C&EN Archives at http://pubs.acs.org/loi/cgeabj.
According to ACS, C&EN Global Enterprise features all of the content found in the magazine–from cover to cover–but now in a highly discoverable web and mobile format that is completely integrated with ACS Publications' journal web site.  Users can search, sort, email, or link articles and seamlessly flow between ACS journals, eBooks, and other content featured on the ACS Journal web site.
C&EN Archives is an electronic archive covering the complete historic record of C&EN magazine from 1923 to 2015. This new site provides a full historic record of C&EN magazine from the first issue to the present—on one platform.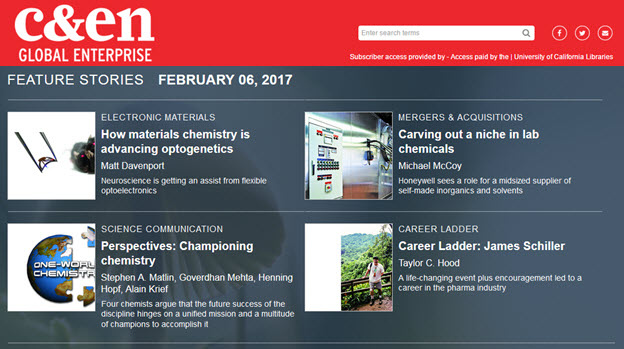 The original C&EN Online website (http://cen.acs.org/index.html) now contains content for ACS individual members only; to access the ACS Member C&EN you are required to have a current/active ACS membership with username and password. Please note, access to the C&EN membership content is not provided as part of the larger CDL subscription.
Chuck Huber (cfhuber@ucsb.edu) is the Resource Liaison for the American Chemical Society resources.