Announcing the JSTOR Ebooks DDA Pilot!
Books at JSTOR is an initiative to publish scholarly books online as part of JSTOR, one of the most well -known and widely used scholarly resources. The UC DDA Task Force evaluated the available content, platform features and licensing terms and agreed that JSTOR's DDA program closely aligned with UC's Ebook Value Statement [PDF].
The pilot begins in January 2017 and includes titles from approximately 90 publishers, mostly university presses, covering all disciplines. The pilot includes 2017 and 2018 English-only frontlist with over 3,000 titles available in the first year and an additional 3,000 titles available in the second year for a total of 6,000 titles in the discovery corpus. For users, the DDA pilot will be invisible and 'behind the scenes': titles in the DDA profile pool will look like holdings in local catalogs and user activity (free browsing, viewing pages, printing chapters, etc.) will happen in real time without intervention from library staff.  The JSTOR DDA titles are in the process of being cataloged by SCP and the titles are currently discoverable via searching and navigating in the JSTOR interface.
Free browsing will allow students and faculty to use the ebooks prior to a consortial purchase of the title. After 46 chapter views or 28 chapter downloads in a single title across the system, the next use will trigger a purchase with unlimited, simultaneous use and perpetual rights for all nine participating campuses (excluding UCSF).
The pilot is funded for two years (January 2017-December 2018). More information is available on the project website:   http://www.cdlib.org/services/collections/current/JSTOR/index.html.
A webinar will be given on Tuesday, February 14 on the JSTOR pilot – details on how to register will be sent to SCLG and CKG chairs to distribution.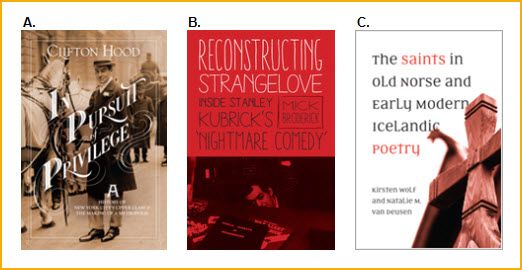 A.  In Pursuit of Privilege: A History of New York City's Upper Class and the Making of a Metropolis
B.  Reconstructing Strangelove: Inside Stanley Kubrick's "Nightmare Comedy"
C.  The Saints in Old Norse and Early Modern Icelandic Poetry