New Tier 2 Licensed Resource – BioCyc Microbial Genomes and Metabolic Pathways Web Portal
Five campuses (Berkeley + Lawrence Berkeley National Laboratory, Davis, Los Angeles, Riverside, and Santa Cruz) are participating in the BioCyc three-year Tier 2 license.
http://uclibs.org/PID/288537  (B/LBL, D, LA, R, SC; on the BioCyc.org platform)
BioCyc is a comprehensive resource for data on genes, metabolites, and metabolic pathways for more than 7,600 microbes and other species (http://biocyc.org/biocyc-pgdb-list.shtml). BioCyc provides access to data in over 9,000 individual databases, and also provides a comprehensive set of informatics tools for data query, visualization and analysis. By coupling unique and high-quality database content with user-friendly bioinformatics tools, BioCyc enables scientists to pursue a wide range of research in microbial genomics, metabolic engineering, synthetic biology, anti-microbial drug discovery, and more. For information on the content and unique features of BioCyc, please see (http://www.phoenixbioinformatics.org/biocyc/assets/20170125-biocyc-metabolic-pathways-web-portal.pdf).
Initially supported by U.S. government grants, BioCyc has transitioned to non-profit subscription funding as of July 1, 2016. The EcoCyc and MetaCyc databases within the BioCyc collection of Pathway/Genome Databases will remain freely available beyond July 1 due to continued government grant funding. In addition, BioCyc provides non-subscribers with a limited number of free page accesses per month to data in the licensed databases as a service to the research community.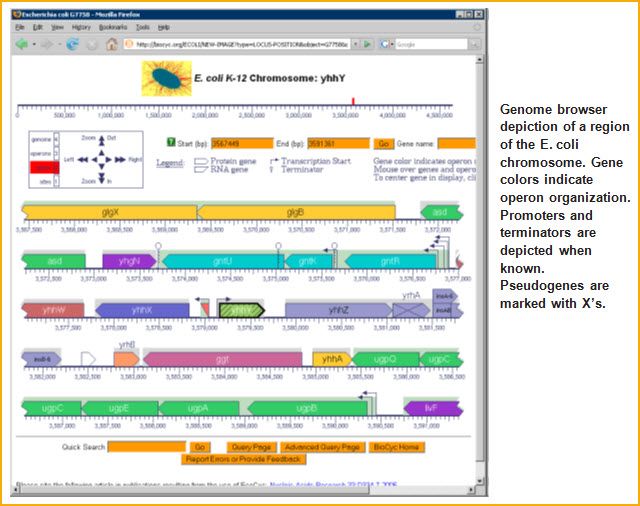 Christy Hightower (UCSC) is the contact for information on this license.