Cambridge University Press content moves to new platform: Cambridge Core
Cambridge Core is the new academic platform from Cambridge University Press. It consolidates all Cambridge content, and Cambridge hosted content (Materials Research Society Proceedings Online) onto the single Cambridge Core platform (https://www.cambridge.org/core).
The switch to Cambridge Core happened on September 4, 2016.
Key Features and Functionality
Cambridge Core includes extensive tools for researchers such as
RefME (free citation and bibliography generator) widget
Save search & bookmark content
Recommend to librarian
Bulk content actions
Send PDFs to Kindle/Google Drive/Dropbox (instructions)
Chapter abstracts
More information on Cambridge Core features/functionality is available here.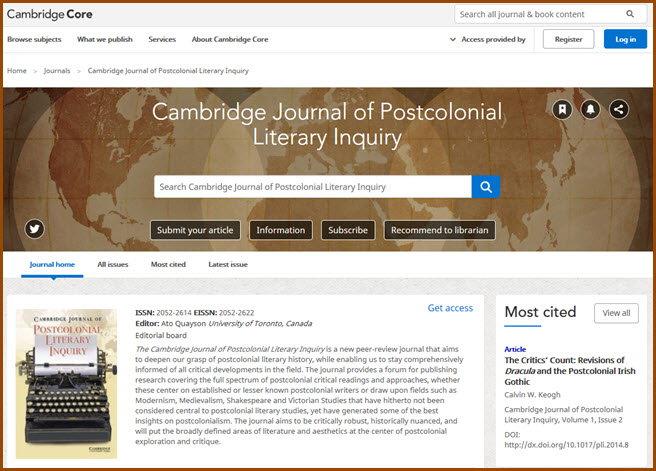 Users with accounts on earlier Cambridge platforms
All accounts from the Cambridge platforms have been migrated across to Cambridge Core. Users need to log in to Cambridge Core using the email address associated to the old account to ensure continued access to content.
For security reasons, passwords from the previous platform have not been brought across. Users attempting to log in to Cambridge Core for the first time with their prior Cambridge account details must first reset their password.
Usernames do not exist on Cambridge Core. The Cambridge Core login will be the email address associated with the account. For further assistance, please contact customer services.