Rosalie Lack moves to UCLA Library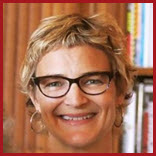 Rosalie Lack, CDL's Web Archiving Coordinator, has accepted a position with the UCLA library.  Her last day at the CDL will be May 24.
During her time with the CDL, Rosalie has demonstrated a strong commitment to the success of the CDL and UC3. Her commitment to UC, combined with her personal interest to work on international projects, now calls her to a new position as Project Manager for the International Digital Ephemera Project (IDEP) at UCLA (http://digital.library.ucla.edu/dep/).
As you know, Rosalie has made many great contributions to CDL.  Since returning in 2012 from a two year hiatus working for a non-profit library organization based in Italy, she has taken the lead and contributed to a number of important projects/initiatives. Here are a few of Rosalie's accomplishments:
Oversaw the creation of a series of new Web Archiving Service (WAS) marketing materials, including website redesign
Managed the design and production of the DMPTool and Dash "brochure" sites
Served as UC3 Interim Director
Served as Chair of the UCLAS Coordinating Committee
Managed the WAS to Archive-It transition
Launched the End of Term 2012 web archive content
Spearheaded two web archiving grants, taking them from preliminary proposals to full project submissions (with plans to submit them both on her last day at the CDL!)
Advocated for the CA.gov web archive project, one of the few systemwide collaborative collections
CDL will truly miss Rosalie and we wish her all the best in her new adventure.