Farewell to SCP Head Adolfo Tarango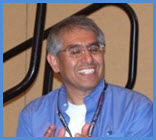 It is with mixed emotions that we announce that Adolfo Tarango, Head of the Shared Cataloging Program (SCP) at UC San Diego, is leaving UC to take an exciting new position as the head of technical services at the University of British Columbia. Adolfo's last day of work at UC will be April 1st  (and no, this is not an April Fool's prank!).  We wish Adolfo all the best in his new endeavors, and will miss his leadership and vast knowledge.
Among his other responsibilities at UC San Diego, Adolfo has led the Shared Cataloging Program since its founding in 2002, developing that unit into a nationally-recognized center of collaborative cataloging that is unique among research libraries and that has served as a model for other libraries.  Under his leadership, SCP has introduced many innovations including collaborative projects with other universities, addition of a shared Chinese cataloging capability to SCP, implementation of RDA, shared cataloging of ebook packages and open access resources, and most recently, use of the OCLC KB to achieve greater efficiencies in cataloging and catalog management.  In 2010, Adolfo presided over the integration of SCP and CDL Acquisitions into a joint Systemwide Collection Services unit, improving the workflow pipeline between those two groups.  Adolfo has consistently been a strong advocate for the work of these important units on behalf of shared UC collections.
Adolfo has also been a leader on the national cataloging scene with an outstanding record of service through his work in CONSER, the Program for Cooperative Cataloging (PCC), the Committee on Cataloging: Description and Access (CCDA), his participation in NASIG governance, among many other activities.
With Adolfo's departure, we're very pleased that Shi Deng, the head of the CJK Cataloging and Metadata Unit at UC San Diego, has agreed to serve as the interim supervisor of SCP. For any questions related to shared cataloging please email Shi at sdeng@ucsd.edu, and cc: Becky Culbertson (rculbertson@ucsd.edu). CDL Acquisitions will report to Peter Rolla, UCSD's Program Director, Content Acquisition and Resource Sharing.  For questions related to CDL acquisitions, such as renewals or payments, please contact Adriana Moran at admoran@ucsd.edu. And as a reminder, please use the CDL Helpline for questions about the cataloging status of Tier 1 or Tier 2 resources.
Adolfo, we'll miss you and wish you many more years of professional success!