Heather Christenson joins HathiTrust Digital Library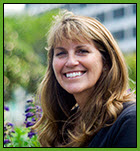 Heather Christenson, Manager of Digital Content Development and Strategy within the CDL Collections Program, has taken a new position with HathiTrust as Program Officer for Federal Documents & Collections. This is an exciting opportunity to lead a major new initiative at HathiTrust to create a comprehensive digital corpus of US Federal Documents and support the continued expansion of HathiTrust collections.  Heather's appointment is a tribute to her standing within the mass digitization community and to her effectiveness in advancing CDL's work in this area.   Her last day at CDL will be Friday, April 8.
Heather has been working on mass digitization since 2007 when she took on the role of Mass Digitization Project Manager.  Since then she has overseen the digitization of close to 3.8 million UC books digitized from 9 campuses and RLFs. In Heather's words, "a wonderful thing about this work has been the opportunity to visit all the campuses and get to know my colleagues across the UC libraries." Heather has visited every UC campus and multiple libraries on most campuses, since for the mass digitization projects, staking out the physical footprint and scope of the collections is important in carrying out the project. According to Heather, "I never tire of the collection managers' enthusiasm and knowledge, and listening to them describe their collections." Some of her favorite libraries include the (former) Scripps Institution of Oceanography library by the sea in La Jolla, the UCLA East Asia Library, and the endless tall corridors of books in NRLF.  The UC Library Reprints service had its origins in a trip Heather and Catherine Mitchell took to the O'Reilly Tools of Change for Publishing meeting back in 2007, where it was clear that new possibilities for digital books and publishing were about to take off (and Heather & Catherine faced their fear of flying together on a long winter flight). A UC task force was launched to develop the Reprints Service when they returned (safely!). Heather has also been involved in the development of the HathiTrust Digital Library from its beginnings, including coordination of CDL and UC contributions.  Heather's connections with colleagues across the country via the many significant mass digitization projects in which UC has been involved (Internet Archive, Microsoft Live Search Books, Google) also led to a role as Chair of the HathiTrust Communications Working Group during a key formative period in the development of that initiative. Notably, Heather joined Laine in testifying on behalf of the UC Libraries in Authors Guild v HathiTrust.
In her new position, Heather will no doubt continue to work with many CDL and UC colleagues, however, what she will miss most is being here in the CDL and UC community and seeing everyone on a daily basis. She will spend some of her time working from the University of Michigan, but will be based at home in Berkeley.  Congratulations Heather!