CDL Helpline: notice of staffing transitions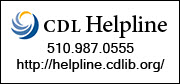 Currently, the CDL Helpline (available via the CDL Helpline database, email [cdl@www.cdlib.org] and telephone [510.987.0555]) is experiencing staffing transitions. During the next month or so, responses to issues reported to Helpline staff might take slightly longer than usual, although we'll try to respond to issues within 2 work days.
For campus library staff, the best way to report problems with CDL or vendor-licensed resources is to submit a ticket through the CDL Helpline database. On the ticket, please set the Priority of the problem you're reporting for triage purposes. See the Information Services homepage for details.
We appreciate your patience during this transitional period.