Meet Robert Wang – CDL's new UX Designer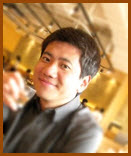 Robert Wang is a new UX Designer at the California Digital Library (CDL). He recently graduated from the University of Michigan with an M.S. in Information, specializing in human-computer interaction (HCI). He is excited about advancing CDL's mission of supporting scholarship and providing public service. His portfolio can be found at wang-ux.com.
In 2014, he completed his internship at the Ford Motor Company's Research and Advanced Engineering Center in Dearborn, Michigan, working on the Smart Mobility team. While at Ford, he built an internal tool that supports executive reviews.
Prior to Ford, Robert worked as part of a team of user experience researchers for Consumers Energy, where he recommended improvements for an overhaul of their website by conducting interviews, surveys, heuristic evaluations, comparative analyses, and usability tests.
He is also proud to have served as product manager for droptime, an innovative mobile note-taking app for the busy bee. He conducted user interviews, defined the functions and features, and drew the product wireframes. See https://dropti.me.
Robert has spent 25 years living in the Bay Area, where he went to middle school, high school, and college. He went to college at UC Berkeley, where he graduated with B.A. in Political Science. While at Berkeley, he attended a lecture by Alan Cooper, which later helped inspired him pursue a career in HCI.
When Robert is not glued to his computer monitor, he enjoys reading, practicing yoga, traveling, and spending time outdoors. He is excited to be part of the East Bay community, where he hopes to spend more time in Alameda, Napa, Oakland, San Francisco, and Yosemite National Park.
Welcome Robert!