New mobile version of UC-eLinks
As of January 12, 2016, you will see a mobile-optimized version of UC-eLinks when you are on most mobile devices. Thank you to the campus UC-eLinks Liaisons and the the UC-eLinks Operations team for assisting with testing.
Mobile versions are available for these UC-eLinks interfaces:
UC-eLinks full menu window
UC-eLinks banner (i.e., direct linking in a frame where you bypass the full menu window)
A-Z ejournal lists
At this time, a mobile version of the Citation Linker form is not available.
See the screenshots below comparing the non-mobile (desktop) version of UC-eLinks to the mobile version, and we've described the major differences. Desktop is shown on the left, and mobile is on the right.
UC-eLinks menu
The mobile version of the UC-eLinks menu (see below at the right) includes icons and truncates the text preceding any links.
UC-eLinks Direct Linking
When in a frame, the mobile UC-eLinks menu (at the right) loses its branding and the "Report a Problem" link is not displayed. Notice in the example below at the right, the vendor content (IEEE.org) is not optimized for mobile, for example, a user has to scroll to see the whole page.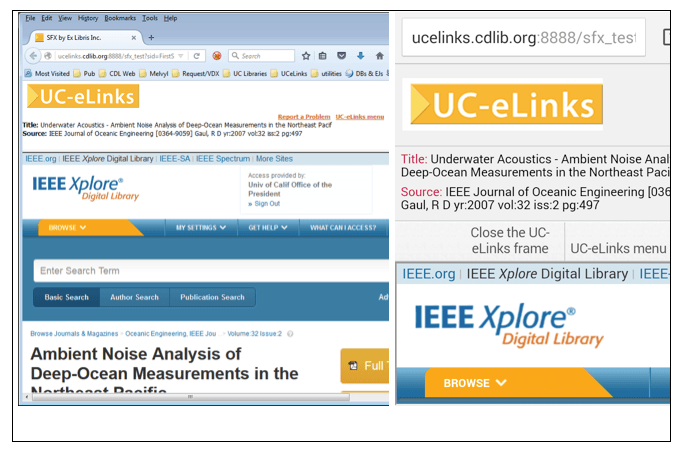 UC-eLinks A-Z List
The mobile version contains the fields from the "Advanced Search" tab and does not contain campus specific branding. The "Full AZ list" link brings up the desktop version of the A-Z list on the mobile device.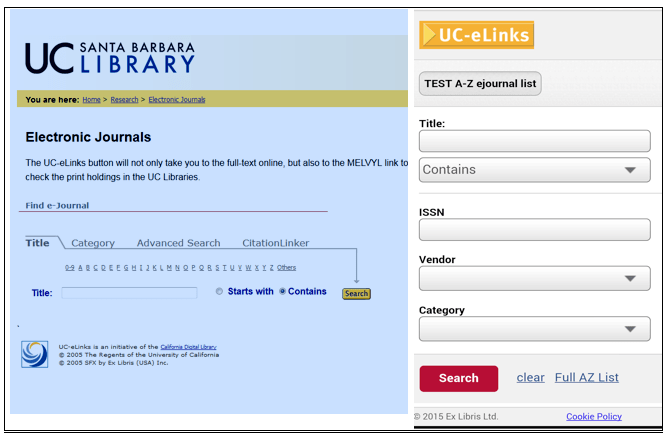 Next Steps
Enabling the mobile version of UC-eLinks is the final step in our transition to the SFX "simplified template" done in June 2015. Read more in the post: UC-eLinks user interface simplified: Go button is going, going, gone.
Looking ahead, we are advocating for the vendor, Ex Libris to build responsive design interfaces that will automatically adjust to the size of your screen.
Feel free to contact the CDL UC-eLinks operations team if you have any questions or concerns.