Laine Farley, CDL Executive Director, to Retire Effective September 30th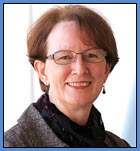 Laine Farley, longtime Executive Director of the California Digital Library, will retire from the CDL effective September 30th, 2015.
Farley is CDL's third and longest-running Executive Director, having served in that capacity for nine years—first as Acting Executive Director from 2006 to 2008, and then as Executive Director from 2008 to the present. During her tenure, the scope and extent of CDL's digital library programs have undergone significant expansion, ensuring the national prominence of the digital library services that CDL manages on behalf of the University of California campuses. Among her many accomplishments as Executive Director have been fostering initiatives in library publishing and data management, developing policies and tools for UC's open access initiatives, overseeing the largescale digitization of UC library holdings in partnership with Google and the Internet Archive, and establishing UC libraries as founding members of the HathiTrust. Farley focused the CDL's work around the "life-cycle" of services that support UC's intellectual endeavors, showcasing the way 21st-century digital libraries can operate in new roles, while simultaneously steering the CDL through some of the most challenging budget circumstances in the University's history.
Prior to her leadership of the CDL, Farley enjoyed a wide-ranging career that encompassed many roles across the University of California system. After coming to UC from a post as head of the humanities department at the Steen Library at Stephen F. Austin State University, Farley held positions as a reference librarian and library instruction coordinator at UC Riverside and an instructor of bibliography at UC Berkeley. Her passion for effective, user-centered service continued to be a hallmark throughout her career. Upon joining the UC Division of Library Automation in 1993, and subsequently as the first Director of Digital Library Services and later Deputy Director of the CDL, Farley was instrumental in developing many of the foundational digital library services that have distinguished the University of California system, including the Melvyl union catalog and groundbreaking online platforms such as the Online Archive of California and Calisphere. Farley also provided distinguished service to the University and the profession through her participation on numerous national and international boards, including the Board of Directors for UC Press, the HathiTrust Board of Governors, and the Digital Library Federation, among others, and has served as principal or co-principal investigator on numerous grant-funded projects, including most recently Social Networks and Archival Context (SNAC), the Western Regional Storage Trust print journals archive, and the Pay It Forward project investigating the institutional costs of Gold Open Access, all generously funded by the Andrew W. Mellon Foundation.
In announcing Farley's retirement to the University community, Susan Carlson, Vice Provost for Academic Personnel and Programs, praised her astute and effective leadership, as well as her delightful "streak of Texas insouciance" that often surprises the unwary listener.   A celebration of Farley's career and leadership of the CDL will be held in Oakland on September 24th.
Interim Leadership Appointed
A national search for a successor to lead the next era of digital library development at the CDL is currently underway.   While the recruitment is in progress and until a successful search is concluded, Ivy Anderson, Director of Collection Development and Management at the CDL, will serve as Interim Executive Director of the CDL. Anderson is well-known among the research library community for her work in collaborative licensing, shared collection development, and scholarly communication innovation, and will continue these current responsibilities in addition to taking on the duties of CDL Executive Director.
Felicia Poe, Manager of User Experience Design and Interim Director of the UC Curation Center (UC3), will serve as CDL's Interim Deputy of Operations. In addition to her expertise in user experience design and assessment, Poe is known and respected within the UC library community for her contributions to effective organizational development.
Both interim appointments will become effective on October 1st.