New Licensed Resource – Early American Newspapers, Series 2, 1758-1900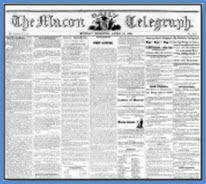 All UC campuses now have access to America's Historical Newspapers / Early American Newspapers, Series 2, 1758-1900.

http://uclibs.org/PID/42513 for Series 1, 1690-1876;
http://uclibs.org/PID/275700 for Series 2, 1758-1900.
(All campuses; on the Readex / NewsBank platform)

America's Historical Newspapers allows users to search more than 1,000 U.S. historical newspapers from all 50 states and Washington, D.C. As part of the most comprehensive digital archive of historical American newspapers…

EARLY AMERICAN NEWSPAPERS, SERIES 2, 1758-1900

Series 2 complements Series 1 (which is also available UC-systemwide) by offering more than 200 significant 18th and 19th-century newspapers. The bulk of Series 2 focuses on the period between 1820 and 1860, when the number of American newspapers rose dramatically. Based primarily on the newspaper collection of the American Antiquarian Society, Series 2 also includes titles from the holdings of the Library of Congress, the Wisconsin Historical Society and other organizations.

Like Series 1, Series 2 offers many significant titles listed in Clarence S. Brigham's "History and Bibliography of American Newspapers, 1690-1820" and other authoritative bibliographies. Bibliographic control for the post-1820 titles comes from Winifred Gregory's "American Newspapers 1821-1936: A Union List of Files Available in the United States and Canada."

CDL fullly funded Early American Newspapers, Series 2, 1758-1900, on behalf of all campuses at the request of the History and News bibliographer groups which both ranked it as a high priority.

Becky Imamoto (UCI) is the Resource Liaison for all Archive of Americana content (includes America's Historical Newspapers and Early American Newspapers).