Oxford Language Dictionaries Online transition to new platform
Three campuses (Berkeley, Irvine, and San Diego) participatie in a Tier 2 license for access to six (Chinese, French, German, Italian, Russian, and Spanish; plus Arabic for UCB only) of the Oxford Language Dictionaries Online. The 3 participating campuses have access to the licensed dictionaries on the new platform (http://www.oxforddictionaries.com/us/).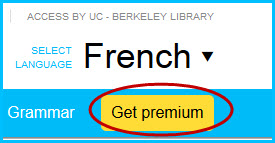 One remaining issue… Currently, a "Get premium" button displays under the dropdown menu for the language/dictionary selection. The participating campuses are, in fact, on the premium version of the resource. The button displays by default. CDL is consulting with Oxford University Press about how best to disable or remove the "Get Premium" button.