New Tier 2 Licensed Resource – Red Book Online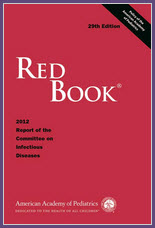 Six campuses (Davis, Irvine, Los Angeles, Riverside, San Diego, and San Francisco) began participation in a Tier 2 opportunity for access to Red Book Online.
http://uclibs.org/PID/268676 (D, I, LA, R, SD, SF; on the Silverchair platform)
Red Book® Online includes the most reliable and clinically relevant content on more than 200 childhood infectious diseases and is the quickest and easiest way to keep pace with all the latest developments and clinical guidelines at the point of care.
Red Book® Online features include
The complete text of the current Red Book® in English and Spanish in 5 easy-to-navigate sections:
Section 1: Active and Passive Immunization
Section 2: Recommendations for Care of Children in Special Circumstances
Section 3: Summaries of Infectious Diseases
Section 4: Antimicrobial Agents and Related Therapy
Section 5: Antimicrobial Prophylaxis
Online updates, news, and eAlerts
Current immunization schedules, vaccine shortage updates, and influenza resource page & much more.
Sarah McClung (UCSF) is the contact for information on this license.