DMPTool Service Update: August – September 2014

Recent Enhancements, News, and Activities
Usage. We continue to get new users — over 300 (approximately) new users each month — as well as new partner institutions (those who configure their 'single sign-on' or add customizations). There are now 125 partner institutions. New institutions include national laboratories and other research organizations beyond universities. We have also received inquiries from consultants working with federal agencies such as the Defense and State Departments.
Shellshock patches. We patched our servers in response to the Shellshock bug that was discovered in late September. We continue to monitor announcements about security vulnerabilities and analyze how they might affect our infrastructure, and work closely with our CDL and UCOP ITS colleagues.
Planned maintenance. The maintenance on Sept. 14 took longer than anticipated. We had announced the outage would be approximately 30 seconds, but the service was unavailable for over 2 hours. Part of the problem involved some errors in scripts to start and stop the service; they are now corrected. We apologize for the inconvenience.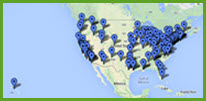 Contributing Organizations
There are now 125 participating institutions that have either configured their 'single sign-on' or customized the DMPTool for their users. There are participating organizations in 41 states and the District of Columbia; California leads all states with 20 of partner institutions.participating organizations. A map of all participating organizations is available here: http://bit.ly/L85sKj.
DMPTool Service Description
The Data Management Plan Tool (DMPTool) provides an easy to use interface that:
Helps users create ready-to-use data management plans for specific funding agencies
Meets funder requirements for data management plans
Provides step-by-step instructions and guidance for how to manage data
Provides information about resources and services available at your institution to help fulfill the data management requirements of your grant
DMPTool Service Managers
Please contact us with any questions or general correspondence. Note that campus library contacts have been embedded in the DMPTool and campus users will be directed to a local library contact.
DMPTool Training Materials, Guides, FAQs and Webinars
Documentation and outreach materials: https://github.com/CDLUC3/dmptool/wiki.
Service Monitoring and Availability
Check CDL's system status page at http://www.cdlib.org/contact/system.html.