UC Libraries Digital Collection Project update: Fall 2014 release
The CDL is pleased to announce the Fall 2014 release of the UC Libraries Digital Collection Implementation Project (UCLDC), nicknamed "Bear." The release brings us another step closer to the successful completion of the two-year project.
Video summary
For a quick summary of progress made on the project during this release cycle, watch our 3-minute video.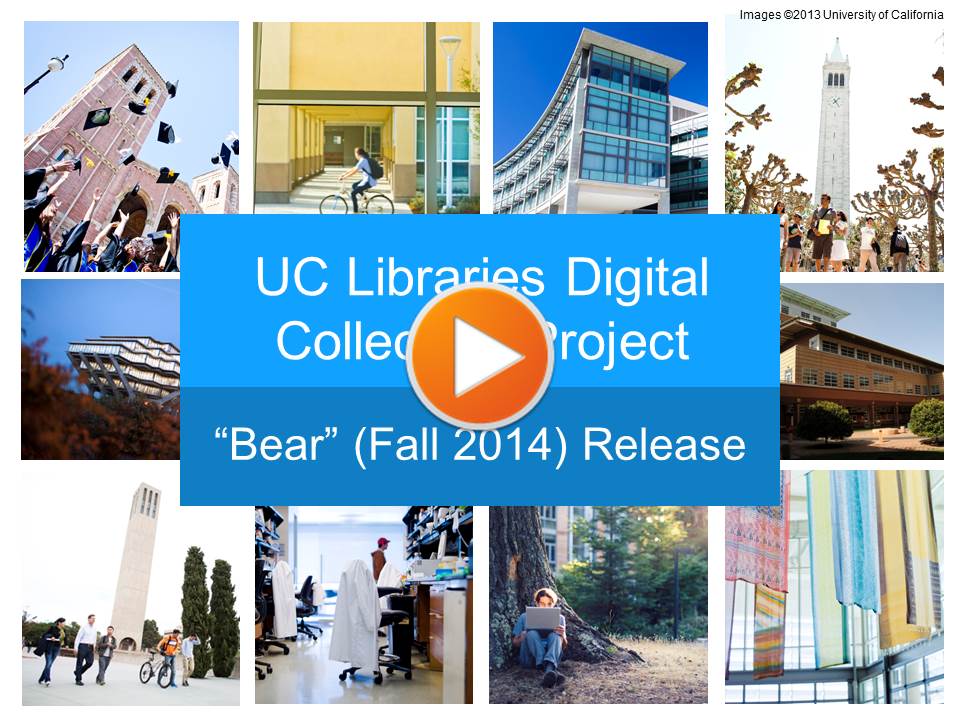 For more detailed information, read the release notes.
New features and accomplishments
The Bear release builds upon work to date on all aspects of the project. Specifically, we completed the following key activities:
DAMS upgrades: since releasing the shared digital asset management system (DAMS) in July of this year, we've continued to improve the interface and functionality of the system.
Training and consultation with DAMS users: we traveled to six campuses, where we presented the project to all interested stakeholders, and then held a more in-depth "deep dive" for staff who will be using the DAMS. These sessions were designed to familiarize staff with the system and to kick-start the process of identifying additional issues and feature requests.
First collections harvested: As of this release, we have preliminary but operational harvest feeds going for two platforms–the Nuxeo DAMS and UCLA's Islandora platform–and have started working with UC San Diego to obtain data from their repository.
A prototype of the public interface: A major focus of the Bear release was to turn our ideas about the UCLDC technical stack into reality. We developed an initial prototype of the public interface to test our model and start to identify the specific technologies we'll be employing to actually build the new Calisphere site.
Graphic design direction: In August, we began working with a graphic designer to create the look and feel of the new Calisphere site. We decided on the logo, colors, and homepage design.
Learn more
For more information about the Bear release ans the UCLDC project, read the release notes.