Calisphere in Atlantic Monthly Series
Calisphere is the University of California's free public gateway to primary sources from across the state. Containing more than 240,000 unique digital items — such as photographs, letters, newspaper pages, and other resources — the website is a trove for discovering California's cultural heritage.
Consequently, it's not a surprise that many writers make use of Calisphere's historic photos and other resources in their work. For example, in his series of articles on California's proposed High-Speed Rail system (CA HSR) published in The Atlantic Monthly, James Fallows* liberally incorporates photographs and maps from Calisphere (along with other sources) for clarification and visual interest.
The most recent article in the series, California High-Speed Rail No. 11: Thinking in Time, includes five examples of Calisphere content. See below.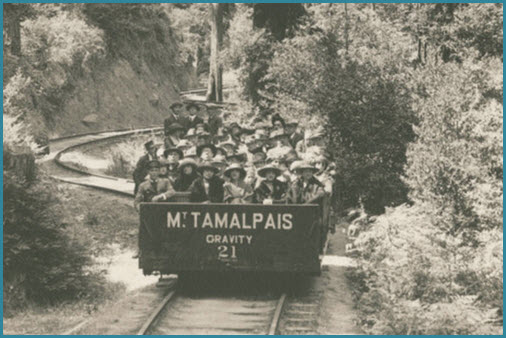 As you can see, Calisphere's primary sources really makes writing come alive!
*Our thanks to James Fallows who "considers the University of California digital archive known as Calisphere to be a treasure trove and a major public asset".
---
Images, top-to-bottom/left-to-right:  Going Thru The Orange Groves, California. So. Pacific Railroad – Courtesy of Agua Caliente Cultural Museum; Crate label for "Sonny" Orange County Valencias, Olive Hillside Groves Inc., Olive, California – Courtesy of Orange Public Library; Venice Miniature Railway, Windward Avenue, Venice, California – Courtesy of Loyola Marymount University, Department of Archives and Special Collections, William H. Hannon Library; Postcard, Railroad Trestle between Saratoga and Los Gatos, ca. 1900 – Courtesy of Santa Clara City Library; and Gravity car headed to Muir Woods on the Mount Tamalpais & Muir Woods Railroad – Courtesy of Mill Valley Public Library.
---
On a related note, check out the amazing CA HSR interactive map (California High Speed Rail – A story map) created by the UC Davis Information Center for the Environment (ICE)/Esri. Links to several of UCD's ICE-created content are included in this series of articles.