The Shipment that Launched 3.6+ Million Digitized Books: NRLF Celebrates Major Accomplishment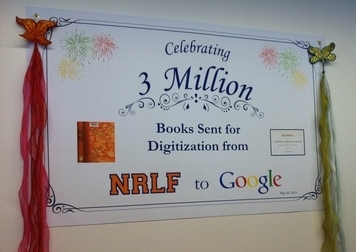 In October 2006, NRLF (Northern Regional Library Facility) sent the first shipment of UC books to Google to be digitized. This shipment launched the University of California's participation in the Google Books Library Project which has since digitized more than 3.64 million books from UC campuses and facilities. NRLF's project was soon followed by UC Santa Cruz, UC San Diego, UC Los Angeles, UC San Francisco, UC Davis, and SRLF (Southern Regional Library Facility). This summer UC Berkeley will join the action and begin sending its unique volumes to Google for digitization.
Since 2006, NRLF has never stopped, and in April of this year, NRLF sent its 3 millionth book to be digitized by Google.  In May, a lunch celebration was held in honor of the NRLF team's hard work and outstanding effort to accomplish this milestone.  The celebration included speeches and a feast of pizza and ice cream sundaes. Those who participated in bringing this vision to reality gathered from out of retirement, from
UC Berkeley, and from CDL to join NRLF in the festivities.
UC books digitized from NRLF in the public domain are available free for everyone to read on HathiTrust and Google Books, and the rest are available for search and discovery.
Congratulations to the NRLF project team!
This photo shows many of the people from NRLF, UC Berkeley, and CDL who worked hard to make this project a success: