Merritt Service Update: January-February 2014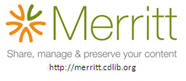 Recent Enhancements, News, and Activities
Datashare is a new service at UCSF for researchers to submit and discover important research data (http://datashare.ucsf.edu). We're exploring the possibility of expanding Datashare to other campuses. We held a webinar on February 2 to discuss Datashare as a system-wide service. Look for more information on Datashare as we start to roll it out.
We use the SDSC Cloud Service for two Merritt collections at present: the content from Open Context and the Online Archive of California (OAC). Both of these are dark archives, and are using Merritt for preservation while providing access through their own websites. Their submissions have been going continuously for several months now, with a combined total of over 450,000 objects.
After additional testing and further refinement of our processes, we are now ready to begin migrating collections stored in the UCOP data center down to SDSC. Our plan is to first change collection profiles so that all new submissions are sent to SDSC. Then we'll start to migrate existing content by re-ingesting it into Merritt, resulting in a new version of the object. It will likely take several weeks, and we'll keep you updated on progress.
The SDSC cloud service provides three copies of the data, albeit in the same data center. We're exploring other options to provide geographically dispersed replication.
Thanks in large part to Open Context and OAC, the number of objects stored in Merritt has grown by 30% in January, to over 675,000 objects, totaling over 17.5 terabytes of storage. The largest object in Merritt is 805 Gb, from UC Irvine's Special Collections (a dark archive). The object with the largest number of files has over 57,000 files. It's part of the Moorea Biocode collection (a public collection) and is available at: http://n2t.net/ark:/13030/m5ng610s.
Merritt Service Description
Merritt is a production level service that provides the UC community with an easy to use tool to manage, archive, and share their content. Content can be deposited and managed via a user-interface or an API.
Merritt Service Manager
Please contact us with any questions or general correspondence.
Merritt Training Materials, Guides, FAQs and Webinars
More information about Merritt is available at http://www.cdlib.org/services/uc3/merritt or by contacting us.
Service Monitoring and Availability
Check CDL's system status page at http://www.cdlib.org/contact/system.html.