EZID Service Update: November-December 2013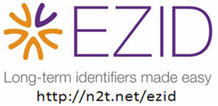 Recent Enhancements, News, and Activities
EZID clients are invited to comment on a draft set of Data Citation Principles put forth by a coalition representing many of the groups who have been working on data citation principles and guidelines internationally. The draft is available here: http://www.force11.org/datacitation and the comment period ends December 31, 2013.
In late January, 2014, the URL for EZID's home page will change from http://n2t.net/ezid to http://ezid.cdlib.org. Note that URLs for your identifiers and for EZID's API will NOT change. This change provides a more natural branding for EZID and improves our flexibility to provide N2T as a separate resolver service. Please be assured that we will support redirection from our old URL for one year so you will have ample time to implement any necessary updates.
The DataCite summer meeting slides, complete with full audio, are now available:
http://river-valley.tv/conferences/datacite2013.
EZID Partners and Clients
Our current EZID clients include academic institutions, government agencies, non-profit organizations and commercial entities.
New this month:
Complete list:
EZID Service Description
EZID (easy-eye-dee) is a production service that gives researchers the ability to create and manage long-term identifiers so that they can to track usage, get credit for their work, share their data, and have the data reused for additional research. As a result, EZID identifiers also make it possible to increase citations, to build on previous work, to conduct new research, and avoid duplicating previous efforts.
EZID Service Manager
Joan Starr joan.starr@ucop.edu or uc3@ucop.edu.
EZID Training Materials, Guides, FAQs and Webinars
More information about EZID is available by sending an inquiry to uc3@ucop.edu. See also EZID outreach and webinars: http://n2t.net/ezid/home/outreach.
Service Monitoring and Availability
Since June 25, 2010, EZID has had an uptime performance of 99.9%. Check the CDL system status page at http://www.cdlib.org/contact/system.html.