Merritt Service Update: October 2013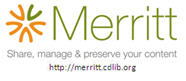 Recent Enhancements, News, and Activities
Datashare is now available for UCSF researchers at http://datashare.ucsf.edu. This is a collaborative project of the UCSF Libraries, CDL and UCSF CTSI. The site has two main components: 1) the catalog of available datasets (click on "Browse all data") and 2) the Ingest Tool to simplify the assembly of a digital object and metadata creation in preparation of submitting to Merritt. Currently, the Ingest Tool is available only to people with a UCSF login.The catalog uses XTF behind the scenes—XTF is an open source platform developed at CDL—and the Ingest Tool was developed by Geoff Boushey at UCSF Library with help from Julia Kochi and Megan Laurance (also at UCSF Library), Trisha Cruse, Stephen Abrams, Carly Strasser and Perry Willett at CDL, and Angela Rizk‐Jackson and Anirvan Chatterjee at UCSF CTSI. And the tie to EZID for DOIs is an important component. Thanks to everyone involved in the project. Now that these tools are available, Megan Laurance is working to encourage researchers to share their datasets via Datashare.If other campuses are interested in participating in the DataShare project do let us know. We are preparing a document that describes the technical requirements for using DataShare,
https://docs.google.com/document/d/1d0j3WDIIQhLXUkkWsYtNx60tWo7qI0Qa62xAeWQbpHA/edit?usp=sharing. This is still a work in progress, so all of the details are not quite finalized, but it does a good job of indicating the overall level of effort required.
It's easier to delete objects. When we first developed Merritt, we weren't thinking about deleting objects—as a preservation repository, it's not our first priority. And we thought that people would want to create new versions of objects rather than delete them altogether. However, many of you need to delete objects for various reasons. Because we store information about the object in multiple places (descriptive information, fixity‐check records, etc) it was difficult to do and generally required a developer. We've now automated many parts of the deletion process, and we can usually fulfill deletion requests within a day or two.
For a current summary of 2013 development priorities for 2013, see the UC3 Curation Wiki:
http://bit.ly/16O0hGK.
Merritt Service Description
Merritt is a production level service that provides the UC community with an easy to use tool to manage, archive, and share their content. Content can be deposited and managed via a user-interface or an API.
Merritt Service Managers
Please send any questions or general correspondence to uc3@ucop.edu.
Merritt Training Materials, Guides, FAQs and Webinars
More information about Merritt is available at http://www.cdlib.org/services/uc3/merritt or by sending an inquiry to uc3@ucop.edu.
Service Monitoring and Availability
Check CDL's system status page at http://www.cdlib.org/contact/system.html.